Top 10 Pirated Movies of 2010
By Turjo, Gaea News Network
Thursday, December 23, 2010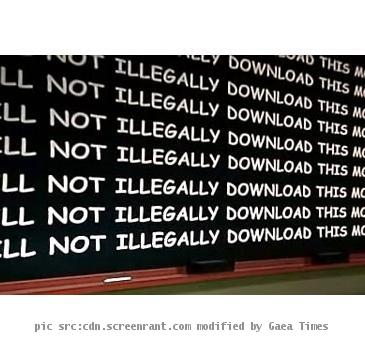 more images
LOS ANGELES (GaeaTimes.com) — As the year is coming to an end, we all are waiting for the movies which are going to hit the theaters in 2011. Well, at least some of us are going to view it on the screen, while other downloads them from the Torrent sites. Pirated films have now become a culture. Hate it or love it, but you can't definitely ignore it! With this moto in head, TorrentFreak has revealed a list of Top 10 Pirated movies of 2010.
Avatar rules the chart followed by an un-conventional choice- Kick Ass. While Avatar had blown out all previous box office records, Kick Ass hardly scrapped anything out of the box office, But still, people over the internet has found this comic book based comedy quite likeable. As expected films like Inception, Clash of the Titans, Shutter Islands etc are there in the list.
Here is the complete list of the movies which have been downloaded the most via torrent on 2010 -
1. Avatar (16,580,00o $2,779,551,867)
2. Kick-Ass (11,400,000 $96,130,432)
3. Inception (9,720,000 $825,408,570)
4. Shutter Island (9,490,000 $294,803,014)
5. Iron Man 2 (8,810,000 $621,751,988)
6. Clash of the Titans (8,040,000 $493,214,993)
7. Green Zone ($7,730,000 - $94,875,650)
8. Sherlock Holmes ($7,160,000 - $523,029,864)
9. The Hurt Locker ($6,850,000 $48,612,915)
10. Salt (6,700,000 $175,190,850)
Which of this film you have liked the most? Or which of the films you have downloaded? Do you think this video piracy should continue? Share your comments and thoughts with us.