Nandini Jumani: The New "Steamer"
By Reema, Gaea News Network
Wednesday, December 22, 2010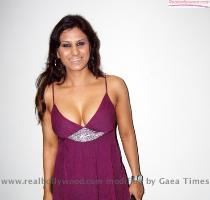 more images
MUMBAI, INDIA (GaeaTimes.com)- It time to enjoy a steamy and raunchy New Year, as Nandini Jumani is getting ready to set your sinful desire on fire. Well, no one actually cares or even needs to know who she is, as long as she offers them every libido fantasy that they desire. However, for those who are concerned about "classy material", may not be very happy to know that she is no one "significant".
All of a sudden Nandini Jumani became famous after (abnormally) sensuously grooving with the "Krazy Kool Kat Been Bajake" video. The people with intact sanity have probably neither heard about the song nor seen the video, but the sleaze lovers have definitely desired her with hot temptation after they got the peek-a-boo of her shapeless, but hot bod. The video was released just last week, and surprisingly some people took (extra) notice of her. Considering this backdrop (and to some extent her frontdrop) how could she resist herself from the media glare? Seeing her potential as an upcoming 'item sizzler', some of the event management companies have offered her to perform at numerous New Year eve shows. And guess what? The new pseudo hottie is actually having a whole lot of confusion in deciding, whom she would pick and which one she would let go! We understand and completely sympathize with her confusion, considering her new infusion into world of 'steamers'. However, it seems that she would settle for the event that would be taking place in Hyderabad and is offering her a whopping amount of Rs.25 lakh to display her quantitative assets.
The plump and voluptuous item girl, Nandini Jumani might apparently seem amateurish. However, she has every potential to offer a tough competition to other established dancers in the industry like Rakhi Sawant (who we hope does not take this new kid to her melodramatic "Adalat"), the 'badnam' Munni and the 'jawan' Shiela.
Filed under:
Art and Culture
,
Bollywood
,
Entertainment
,
Lifestyle
,
Media
,
News and Gossips
,
Performing Arts
,
World
Tags:
"Krazy Kool Kat Been Bajake"
,
India
,
Maharashtra
,
Mumbai
,
Nandini Jumani
,
New Year Eve
,
Rakhi Sawant