Deborah Flores Narvaez Still Missing
By Reema, Gaea News Network
Wednesday, December 22, 2010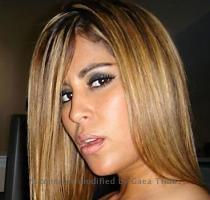 more images
LAS VEGAS (GaeaTimes.com)- The beautiful Luxor's "Fantasy" showgirl, Deborah Flores Narvaez is still missing. Her mysterious disappearance in last October has become a huge matter of concern for the police and her family. However, the police department in Las Vegas have not given up the hope and are still under the impression that she must be alive. Lt. Rob Lundquist of Metro's crimes against youth and family bureau said, that the dancer must have left on her own, but still they are taking the matter quite seriously and are delving into every side of the investigation to seek whether any fowl play was involved in it.
However, Deborah Flores Narvaez's mother, Elise Narvaez left a very substantial clue. She said that her daughter had sent her a text message in December 1, that said, in case there be any emergency regarding her, then the family can contact her ex- boyfriend, Blu Griffith in Last Vegas, instead of her best friends. Although she had no clue back then, why Deborah Flores Narvaez at all had to write it, she got the link when her daughter met Jason Blu Griffith right on the evening when she went missing. However, the police does not think that Blu Griffith had anything to do with her disappearance, but now, after some interrogation with the dancer's sisters, Celeste Flores Narvaez, they have come to know that the guy has been quite violent towards her in several occasions. Once he even pulled her hair and kicked her when she tried to get her phone back from him, after he snatched it from Deborah Flores Narvaez, for which he also got arrested in October.
However, the main bolt from the blue came up when the police found out that Deborah Flores Narvaez was pregnant with her ex's child in October. Jason Blu Griffith and her entire family is cooperating with the police, and none of them are the suspects right now.
Filed under:
Entertainment
,
Media
,
News and Gossips
,
Trivia and Profile
,
World
Tags:
"Fantasy"
,
Celeste Flores Narvaez
,
Deborah Flores Narvaez
,
Elise Narvaez
,
Jason Blu Griffith
,
Las Vegas
,
Lt. Rob Lundquist
,
Luxor
,
Nevada
,
United States