Poonam Jhawar Gets Her First Break
By Reema, Gaea News Network
Monday, December 20, 2010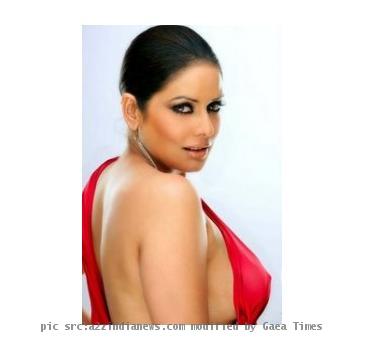 more images
MUMBAI, INDIA (GaeaTimes.com)- Anyone heard about Poonam Jhawar before, or ever made an attempt to know her either? No one infact knew that there is a person existing in the tinsel town of Bollywood by this name, until today, when she started creating a rave all over the internet for her new and probably the first film in her sixteen year old Bollywood (Struggling) career.
Although she was seen in a few forgettable item songs, she never came under the limelight ever before. However, now, director Satchit Puranik, probably understood her worth and offered her a lead role in his upcoming film, '2G Radia-tion'. The movie is centered around the life and controversies of Nira Radia, who became controversy's favorite child after 2G telecom spectrum investigation. The couchy and pseudo sensuous starlet Poonam Jhawar is extremely excited about her new project. She said in an interview that the producers felt that her personality is very much similar to that of the protagonist in the film. To her, it is the role of her lifetime. (And probably the only and the last role of her lifetime.)
Desperate to grab the limelight, Poonam Jhawar has danced in item numbers like "Kiss Kiss Ko Batao" and "Tauba Tauba Kya Hoga", which went as unnoticed as the starlet herself. However, it seems like the "Kiss" in her item songs (and later in reality) actually managed to finally bag her a role. The starlet also claimed, that she asked to pose for "Playboy", but she refused it as it was too hot to handle. Wow!! seems like despite her negligibility in Bollywood, the Hollywood is craving to see her. Therefore, produced by the UK based Hiten Group, this movie surely has the minimum chance to create any significant effect within the Indian audience.
Filed under:
Bollywood
,
Celebrity Facts
,
Celebrity Wisdom
,
Entertainment
,
Interviews
,
Media
,
Movies
,
News and Gossips
,
World
Tags:
2G Radia-tion
,
Hiten Group
,
India
,
Maharashtra
,
Mimbai
,
Nira Radia
,
Poonam Jhawar
,
Satchit Puranik