"6 Foot 7 Foot": Lil Wayne's First Post-Prison Release
By Reema, Gaea News Network
Saturday, December 18, 2010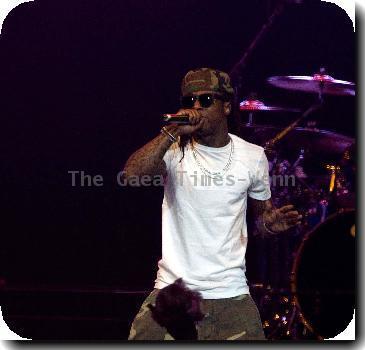 more images
LOS ANGELES (GaeaTimes.com)- Lil Wayne is never running out of work, even when he is serving in jail. Atleast that is what he proved with the release of his new single, "6 Foot 7 Foot", that is part of the album "Tha Carter IV", which he created while he was in jail. Although the album would not be available before February 2011, the track is already becoming one of the most rigorous downloads from iTunes ever since it was released.
Lil Wayne has also featured yet another artist in the song, Cory Gunz. Apparently, the two attempt to pass on their own type of wisdom through the song. The song is also marked with cleverly drafted humor and puns, that is most likely to have resulted from the experience he gathered in jail. Many feel that with "6 Foot 7 Foot," the noted rapper is apparently making an attempt to shed the image that he had set so far, in a more rebellious way. Many sources say, that this song is going to be the biggest rave for the rap lovers during this party season. The producer of the song, Shondrae 'Bangladesh' Crawford said that the song was originally meant for T.I. However, he soon realized that no one else, apart from Lil Wayne could do a better justice to the beat.
However, whatever the matter is, the fact remains that getting "6 Foot 7 Foot" done by Lil Wayne has actually been a good decision on the part of the producers. Critics have loved the song and so has the ordinary listeners. Right now, all that they are waiting for, is the release of "Tha Carter IV", which is expected to be more sizzling.
Filed under:
Celebrity Facts
,
Entertainment
,
Music
,
Music Previews and Reviews
,
News and Gossips
,
World
Tags:
"6 Foot 7 Foot"
,
"Tha Carter IV"
,
California
,
Cory Gunz
,
Lil Wayne
,
Los Angeles
,
United States