"Biggest Loser 10″ Finale Aired Last Night
By Naiwrita Sinha, Gaea News Network
Wednesday, December 15, 2010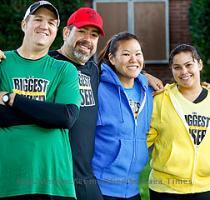 LOS ANGELES (GaeaTimes.com)- Last night the much awaited grand finale of the super hit reality show "The Biggest Loser 10″ was aired on NBC. 28 year old Patrick House emerged as the winner with Frado Dinten, 43 in the second place and 28 year old Ada Wong in the third. The results they had achieved on the show were brilliant and it was clear how much self satisfaction the results had given to all three of them.
Patrick House, a former college football player from Vicksburg, Mississippi got a brilliant amount as cash prize worthy of $250,000. The ex footballer had his family on the occasion of the "Biggest Loser" finale to celebrate his success jointly. His wife Bradley and two sons Colton and Caden were present with him. According to reports Bradley House herself had lost out 53 lbs. Patrick House mentioned that he has received an offer from a South Carolina school to help overweight teenagers cope up with the problem of obesity. No wonder the seeds of extreme hard labor have reaped their seeds rightly. House himself has lost out 181 lbs. shedding from 400 lbs. to 219 lbs.
New York commodities trader Frado Dinten, claimed that he had come to "Biggest Loser" 10 for his family and friends and now after the results felt an immense sense of satisfaction that he was not a burden any more. He shed 367 lbs. to 205 lbs. Third place holder Ada Wong, a technology company consultant who was a favorite among the audience claimed that her life style has taken a complete change. She claimed at the finale that now she has become more confident adding that she refuses to believe that anything is impossible. She has shed her 258 lbs. to a 159 lbs.