Miley Cyrus Bong Video Shocks Her Fans
By Reema, Gaea News Network
Saturday, December 11, 2010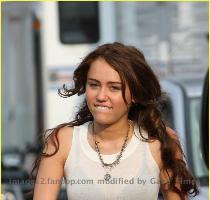 more images
LOS ANGELES (GaeaTimes.com)- It now really seems that Miley Cyrus cannot be tamed anymore. Things have gone out of control, as she turned 18 with a bang. OOpps!! Read it "Bong", as recently, a video has been released, where the kid friendly Hannah Montana is indulging herself in taking bong.
The Miley Cyrus Bong Video has shocked many people, including her dad, Billy Ray Cyrus, as hardly anyone could expect that the little lady, whose on-screen image has been like that of a girl next door, would actually grow up to be so different in her real life. Her innocent on screen persona, like that of an innocent girl, is gradually taking a toll because of all the things that she has been doing in her real life these days. After several steamy music videos, she now decided to gain some media footage by displaying her wild life style in her real life. The Miley Cyrus Bong Video has been filmed by one of her unidentified friends. It is anticipated that a person might have stolen that clipping from the person and uploaded it on net. The bong reportedly consisted of salvia, a psychoactive herb with certain psychedelic effect. However, sources have said that salvia is a natural herb that is commonly found in California and is not illegal in the state. It has also been revealed that the components in the bong did not consist of anything like the illegal marijuana.
Miley Cyrus Bong Video lasts for about 2-minute and 36-second, where the 18 year old is apparently high and sloshed with its effects. She hallucinates certain things (like her ex- boyfriend), that was not even remotely present in that location. She also said that she wanted to take more of them as she loved its effect.
Filed under:
Celebrity Facts
,
Celebrity Wisdom
,
Entertainment
,
Features and Interviews
,
Hollywood
,
Lifestyle
,
Media
,
News and Gossips
,
Page 3 Events and Parties
,
World
Tags:
Billy Ray Cyrus
,
Bong Video
,
California
,
Los Angeles
,
Marijuana
,
Miley cyrus
,
Salvia
,
United States