Justin Bieber gets Kim Kardeshian in Bikini for Christmas !
By Turjo, Gaea News Network
Friday, December 10, 2010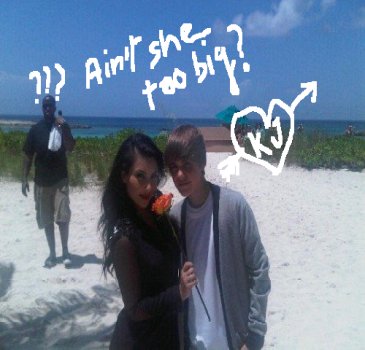 LOS ANGELES (GaeaTimes.com) — Normal people like you and me used to get the latest computer games, sports wear or iPod for Chirstmas, when we were 16. But when it comes to Justin Bieber, things are bound to be exceptional. So the teenager gets a full sized bikini clad picture of Kim Kardeshian as a Christmas gift.
Bieber, who earlier confessed his love for the 'curvy-licious' Kim, was more than happy when he was given the gift at Q102's Jingle Ball earlier this week. Later, he posted a video link to the real Kim Kardeshian showing the picture beside him. he even commented - "Glad u could make it tonight. haha."
The 'Keeping up With The Kardeshians' star replied back - "Always there 4 u! LOL!"
After his famous kissing session with American singer Jasmine Villegas, Justin was seen walking arm-in-arm with Selena Gomez. Although neither Justin or Selena confirmed their relationship, Justin had atleast cleared that he was not in relationship with Jasmine. He only kissed her without any reason. According to him,
I was kissing her… That's about it… I didn't even know anyone was taking pictures. It just kind of happened… It's not really weird. Is it weird? I think every 16 year old kisses a girl, right, so that's not nothing (sic) out of the ordinary.
Now, as his career is going up day by day, Justin Bieber has set his eyes for 'bigger girls'. And definitely Kim kardeshian is at the top of the list.
What do you say? Is there any chance of a fling between Justin and Kim? Or will Justin be happy enough with the poster? Feel free to comment! We are waiting to hear from you.