"Dexter" Season 5 Episode 11 Aired
By Madhusmita, Gaea News Network
Monday, December 6, 2010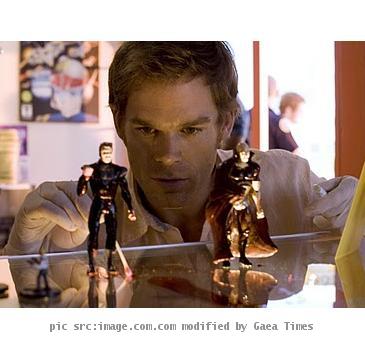 more images
LOS ANGELES (GaeaTimes.com)- Dexter and Lumen's relationship took a different turn when both of them became intimate in the last episode. "Dexter" season 5 episode 11 was aired on Showtime last night and it was subtitled as "Hop a Freighter". The intense episode was directed by John Dahl and it was written by Karen Campbell.
"Dexter" season 5 episode 11 saw that Dexter and Lumen's plans to murder Jordan Chase were momentarily thwarted after he finds out that outside Miami Metro someone has taken an interest in them. On the other hand Jordan is always surrounded by security officials and body guards. However, Dexter takes all the precautions and sees the surveillance equipment to see that investigator Quinn's name is written there. When Dexter and Lumen go to Quinn's home they find the photos RoboCop took of Dexter and Lumen discarding Cole's body. Dexter plans to murder Quinn, however, before he could do anything RoboCop captures him and calls up Quinn to meet him. Dexter manages to overpower RoboCop and ten kills him. When Quinn arrives at the place he does not find anyone and leaves the place immediately.
On the other hand Lumen falls into Jordan's trap. Jordan kills Emily at first and plans to do the same to Lumen. When Dexter returns home he finds Emily's dead-body and easily understands that Lumen is with Jordan Chase. Deb and LaGuerta gets a court order to keep Jordan in the country regarding the barrel girl case. Overall "Dexter" season 5 episode 11 was interesting and it managed to keep its viewers riveted to their seats. The media outlets reported that "Dexter" is renewed for another season owing to huge response from the audience.
Filed under:
Entertainment
,
Media
,
News and Gossips
,
TV Previews and Reviews
,
TV Show Synopsis
,
Television
,
World
Tags:
California
,
Dexter
,
Dexter Season 5 Episode 11
,
Los Angeles
,
Showtime
,
United States