Bryan Adams' "Bare Bone Tour" Visits Charleston
By Reema, Gaea News Network
Wednesday, December 1, 2010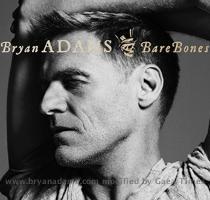 more images
CHARLESTON (GaeaTimes.com)- The audiences at the Clay Center's Maier Foundation Performance Hall were all delighted as Bryan Adams brought his "Bare Bones Tour" to Charleston in West Virgina. It brought about an air of nostalgia, as the singer performed on some of his most celebrated songs, that have soothed our years for the last three decades.
The solo acoustic performance was inspired by "MTV's Unplugged" series in the 1990s. The "Bare Bones Tour" and his latest album with the same name, has tried to incorporate an acoustic makeover for some of his most celebrated songs. He approached the people with his earthy disposition, sporting a blue jeans along with his guitar, a harmonica and a piano. He looked very calm and comfortable as he interacted with the audiences. His performances on some of his greatest hits like "Straight From the Heart", "Summer of '69," "Heaven," "Run to You", "Reckless," and "Have You Ever Really Loved a Woman," revived the old memories of the retro period. Bryan Adams said in an interview that this new album "Bare Bones" is exclusive and he loves the way the songs have carried themselves, despite the absence of original arrangements of a full band or an orchestra. Most of the songs in this album are an accumulation of live recordings from his tour dates earlier this year.
Bryan Adams is all set to travel a bit more for the "Bare Bones Tour". He will visit Pittsburgh, Pennsylvania, where he will be performing today. This would be followed by his visit to Youngstown in Ohio tomorrow. This tour has been scheduled till January 29, when he would be performing in front of the Baltimore audiences.
Filed under:
Art and Culture
,
Celebrity Facts
,
Celebrity Wisdom
,
Entertainment
,
Media
,
Music
,
Music Previews and Reviews
,
News and Gossips
,
Page 3 Events and Parties
,
Performing Arts
,
World
Tags:
Bare Bone
,
Bare Bones Tour
,
Bryan Adams
,
Charleston
,
Clay Center's Maier Foundation Performance Hall
,
Heaven
,
MTV Unplugged
,
Reckless
,
Run To You
,
Summer of 69
,
United States
,
West Virginia