Alicia Keys Sacrifices Digital Life
By Madhusmita, Gaea News Network
Wednesday, December 1, 2010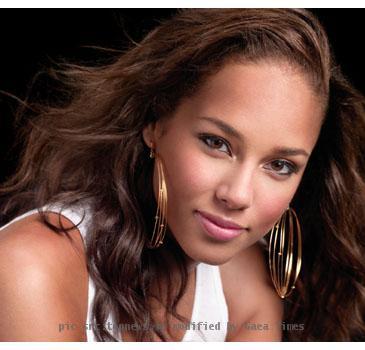 more images
LOS ANGELES (Gaeatimes.com)- As the world mourns for the loss of precious souls on World AIDS Day, celebrities have come forward and joined hands to help people who are affected by the disease. The contemporary American sensations like Lady Gaga, Kim Kardashian, Usher, Elijah Wood, Khloe Kardashian, Justin Timberlake and Jennifer Hudson will be participating in stunt to promote World AIDS Day by dying a "digital death" on December 1. The celebrities would be taking this step to help Alicia Keys' charity "Keep A Child Alive".
To help the charity the celebrities would urge their fans to donate money in order to bring them and buy them back online. The celebs have coined the name as Buy Life promotion. The whole system would be that the fans would have to text message the name of the first celebrity they are morning to a particular number and immediately $10 will be donated to Alicia Keys' charity. Alicia Keys, Lady Gaga, Justin Timberlake, Serena Williams, Swizz Beatz, Kim Kardashian, Usher, Diddy, Janelle Mone, and Jay Sean have posed for the posters in coffin to bring attention to their effort. The celebrities hope that they would be able to raise $1 million for this noble cause.
Kim Kardashian's poster sees the celebutante lying in a casket where she is wearing a cocktail dress and holding her own cell phone. Alicia Keys is also seen in a white and grey dress in the coffin with her cell phone. The caption of each photograph reads that the celebrities have sacrificed their digital life to give life to the millions who are affected by HIV/AIDS. Alicia Keys founded "Keep a Child Alive" in 2003 and while speaking about the campaign she said that it is important to shock people in order to make wake them up from sleep.
Filed under:
Celebrity Facts
,
Entertainment
,
Featured Article
,
Media
,
Music
,
News and Gossips
,
World
Tags:
Alicia keys
,
California
,
Elijah Wood
,
Jennifer Hudson
,
Justin Timberlake
,
Keep A Child Alive
,
Khloe kardashian
,
Kim kardashian
,
lady gaga
,
Los Angeles
,
United States
,
Usher
,
World aids day