"Young Justice" Claims A Strong Footing
By Reema, Gaea News Network
Saturday, November 27, 2010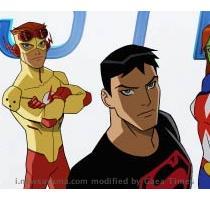 more images
LOS ANGLES (GaeaTimes.com)- The pilot episode of "Young Justice" was premiered yesterday on Cartoon Network, that lasted for one hour. The show created a good footing right in the premiere episode, as it gave a vivid view about the plot, theme and the various character sketches. The animation was above average ad the concept was clever and well executed. In a way, the show seems to be quite promising.
The "Young Justice" is revolved around four sidekicks and their superhero mentors. Robin and Batman are the two most recognizable pair, followed by Green Arrow and his heir Speedy; Aquaman and Aqualad- the kid who swims beside Aquaman, and The Flash and his partner Kid Flash. All of them are working out to combat a well-coordinated attack by an ice-based villain. All of them are simultaneously striving to ditch the bad boys, that merged them together to form the "Justice League", consisting of the great action heroes. Black Canary in charge of "training" and Red Tornado is the kids' supervisor. However, after a point, the sidekicks felt that the grown up heroes are not giving them enough importance, and therefore, in order to prove their worth, they decide to conduct a secret mission to the mysterious Project Cadmus. This is a notorious project that aims to hatch Superboy, by stealing Superman-DNA and manufacturing genomes.
The plot of the pilot episode of "Young Justice" was very vivacious, thrilling and witty, with the incorporation of some good humor along with action. The show is expected to get more viewership as it moves ahead. The show is fresh and dynamic. However, it does not completely correspond to the DC Comic series with the same title. It has a different entity from the comic's continuity.
Filed under:
Media
,
News and Gossips
,
Page 3 Events and Parties
,
TV Previews and Reviews
,
TV Show Synopsis
,
Television
,
World
Tags:
Aqualad
,
Aquaman
,
Batman
,
Black Canary
,
California
,
Cartoon Network
,
Flash
,
Green Arrow
,
Kid Flash
,
Los Angeles
,
Red Tornado
,
Robin
,
Speedy
,
United States
,
Young Justice