Tom Cruise and Katie Holmes Living Apart?
By Turjo, Gaea News Network
Friday, November 19, 2010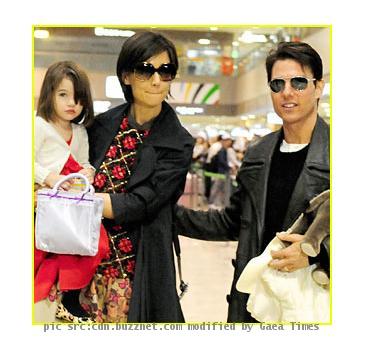 more images
LOS ANGELES (GaeaTimes.com) — If the rumors are considered to be correct, Tom Cruise and his beautiful wife Katie Holmes are no longer living together in the same house. Although no news of their divorce has been heard, the entire incident has raised several eyebrows.
Reports suggest that Katie has decided to take some time off from her daily life in the controlling environment of the $35m mansion she shares with the her husband, Tom Cruise. Most of her days are spent within a tiny four bedroom house along with her daughter Suri. So, she has come out to live alone for some time to enjoy some peace and freedom.
In her new home, Hollywood Hills, she can relax, walk around in her pyjamas, can talk freely to her family on the phone and sit outside in the backyard by the pool leading a normal stress free life.
Katie has also agreed that being a mother she enjoys spending time with her daughter, 4-year-old Suri Cruise. She cannot live without her. It was earlier reported that 48-year-old Tom Cruise and Katie Holmes want Suri to follow in their footsteps. But later Holmes stated it was a rumor as she and Tom wants Suri to follow her heart and just be happy.