'Dunno Y Na Jaane Kyun' Deals With Homosexuality
By Arnab Ghosh, Gaea News Network
Saturday, November 13, 2010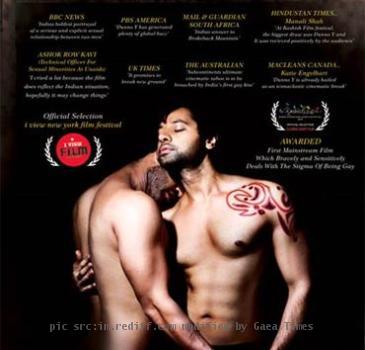 more images
MUMBAI, INDIA (GaeaTimes.com)- Much before its release the controversial movie 'Dunno Y Na Jaane Kyun' ran into trouble and it was for predictable reasons. India is not ready for embracing same sex relation, aka homosexuality yet! The film dubbed by many as India's answer to 'Brokeback Mountain' has been released amidst much controversy and debate. So is it really an Indianized version of the Academy award winning movie? The director puts in a brave effort and it may make the gay community in India jubilant but the end result is not much appealing. Of course, the movie deals with the sensitive issue of homosexuality from a serious perspective and the gay characters in the movie have not been reduced top effeminate trans genders as we often see in Mainstream Bollywood movies. The film also was scissored by the censor board.
'Dunno Y Na Jaane Kyun' has a number of veteran actors apart from Kapil Sharma and Yuvraaj Parashar who essay the role of the gay couple in the movie. Yesteryear actress Helen and Zeenat Aman are the saving grace in the film who manage to look convincing as the mother in law and daughter in law pair! The film for the first time in the history of mainstream Hindi movie, deals with the so called taboo topic openly yet the end of the film leaves much to be desired.
In 'Dunno Y Na Jaane Kyun' the gay characters have been portrayed realistically but the plot lacks punch. The director takes too long to make the viewers see his point. This movie may encourage more filmmakers to come up with same sex issue related films but it cannot be called a memorable flick.