Kanye West Gets Angry On Matt Lauer's Show
By Tias, Gaea News Network
Friday, November 12, 2010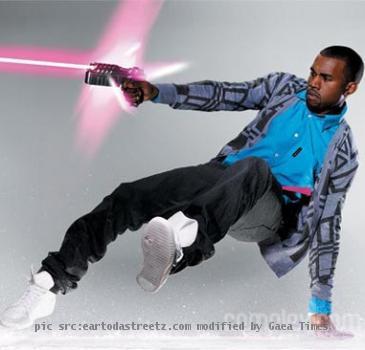 more images
LOS ANGELES (GaeaTimes.com)- Controversy prone rapper Kanye West has found himself in the news again and even this time it is not for his music. The singer appeared on Matt Lauer's 'Today Show' and got angry at the host when earlier clips of his controversial actions and comments were played during the interview. Later the star took to Twitter to vent his anger and said that the host forced statements out of him. Today the network released the entire interview on the web and it evident that the 'Power' star was very upset about his past being dug up.
Kanye West started off by trying to explain himself about the controversial comment that he made during the Katrina disaster in 2005 about former President George Bush. He said that he completely empathized and understood the president's situation and called it the worst moment in his presidency. Things, however, turned more serious when he was shown a clip of a recent interview. Kanye West lashed at Matt Lauer and said that he need not have played the clip to stir up his emotions. He said that he realized that he had made a mistake by calling him a racist. He went on say that he has grown as a person since then and he came to the interview to say that he had made a mistake.
Later, however, Kanye West lost his calm again when Matt Lauer played the VMAs 2009 clip of him interrupting Taylor Swift in the middle of her acceptance speech. Kanye West lashed out and asked how he was supposed to talk if they started to play the clips with audio during the interview. Later on his 'Twitter' page the rapper described Matt Lauer's interview tactics as 'brutal'.
Filed under:
Celebrity Facts
,
Celebrity Tweet
,
Entertainment
,
Music
,
News and Gossips
,
TV Previews and Reviews
,
Television
,
World
Tags:
California
,
Kanye west
,
Los Angeles
,
Matt Lauer
,
Today Show
,
United States