How Old is David Hasselhoff? in Dancing with The Stars
By Mayuri, Gaea News Network
Tuesday, October 26, 2010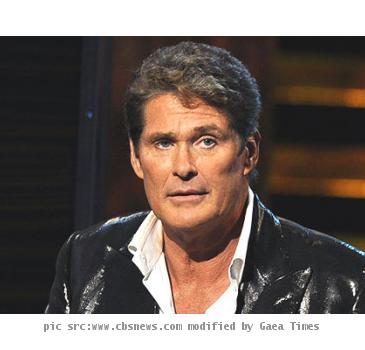 more images
LOS ANGELES (GaeaTimes.com) — How Old is David Hasselhoff? That's the question on everybody's mind as Hasselhoff grooved the dance floor of "Dancing with the Stars" with Kym Johnson. With Florence Henderson at the age of 76 ravishing the dance floor and giving a tough competition to other contestants, it seems that the popular show "Dancing with the Stars" is becoming "Dancing with the Oldies".
The last episode of the show was quite fascinating as it had some great performances by the top-notch celebrities. David Hasselhoff danced with the song 'Sex Bomb' by Tom Jones and it was a great fun to watch this man shaking his legs at 58 years of age. But poor David scored only 15 but I am sure he is confident enough to boost his performance in the next rounds. Despite his age David is full of energy and spirit to rock the show. His body may have become old but his heart is still young to face new challenges.
David Hasselhoff's performance was nothing compared to that of another oldie in the show, Florence Henderson. She just mesmerized the audiences with her graceful dance and her lovable attitude. She still holds the young aura in her. This seasons Dancing with the Stars is sure to prove that 'Guys age doesn't matter!!'. Did you like any of the two performances? Pen down your thoughts to us.