Ari Up Dead At 48
By Naiwrita Sinha, Gaea News Network
Thursday, October 21, 2010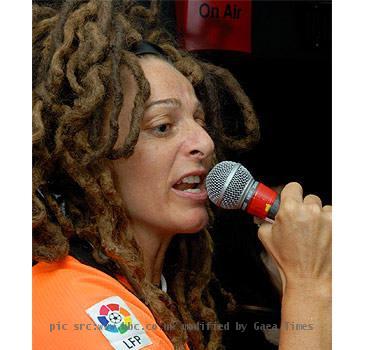 more images
LOS ANGELES (Gaea Times.com) Ari Up, a famous singer in the English punk group "Slits", died yesterday at the age of 48, due to serious illness. The singer is well known for her band "Slits", that was formed in 1976 by her and her best friend Palmolive, when she was reportedly fourteen years old. The death was announced on the website of John Lydon, who is her step father. Ari Up's real name was Arianna Foster. Ari Up was known as the most Flamboyant member of her group. Her crazy hair and outfit on stage soon became her trademark. The cover of her group's debut album became quite famous, she and her band mates were photographed topless while smeared with mud.
The Slits were seen in "The Punk Rock Movie" in 1992. The band, however split in 1981 but was reformed again in 2006 by Ari Up with original bass player Tessa Pollitt. They toured through Europe, North America, Australia and Japan. Ari Up was well known as a solo artist as well. Ari Up's first full length solo album was released in 2005. The album was titled "Dread More Dan Dead". She did a few solo concerts in New York and had toured UK with "The true Warriors", her backing band.
Ari Up's death has been a shock to her fans as well as those who knew her personally. Her death announcement on John Lydon's site was made on the behalf of John and Ari's mother, Nora Foster. The statement on the site said that they were asked by John and Nora Foster to let everyone know that Nora's daughter had died after a serious illness. The statement further said that "she will be sadly missed".