Shillong Chamber Choir wins 'India's Got Talent Khoj 2′
By IANS
Saturday, October 2, 2010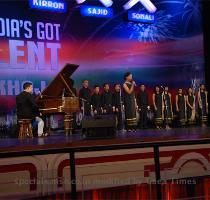 more images
MUMBAI, INDIA (GaeaTimes.com)- 'India's Got Talent Khoj 2′ has a winner and it is none other than the Shillong Chamber Choir, the group that has enchanted the judges and the audience over the last few weeks of the competition. The result was announced on Saturday and people all over Shillong joined in the celebrations. The group overtook Bir Khalsa and Teji Toko to win 'India's Got Talent Khoj 2′, what was a neck and neck competition. With almost all the acts being worthy of winning the competition, the entire country was divided on who would be winner of the prestigious competition.
People from all walks of life participated in the celebrations that took place in Shillong after the announcement of the winner of 'India's Got Talent Khoj 2′. People honked their car horns before the gathering began and there were large screen put up at the important areas. Chantings of 'Ka Jingjop' (we won) could be heard on the streets of the Meghalaya capital. The win by the Shillong Chamber Choir meant a lot to the city which is called the 'Rock Capital of India' and the Chief Minister of the state, Mukul Sangma said that the group created history and the achievement has shown the world the state's potential. He also said that the state has a lot of talent which needs platforms like these to be revealed to the world.
The Shillong Chamber Choir was also the first Indian group to win gold at the World Choir Olympics held in China recently. The group started in 2001 and their genres range from Mozart to Hindi film songs.
Filed under:
Bollywood
,
Entertainment
,
Movies
,
TV Previews and Reviews
,
Television
Tags:
India
,
Indias Got Talent
,
Maharashtra
,
Mumbai
,
Shillong
,
Shillong Chamber Choir
,
Showbiz
,
Sonali Bendre