Salman Khan's Non-Stop Dabangg Party
By SAMPURN
Thursday, September 30, 2010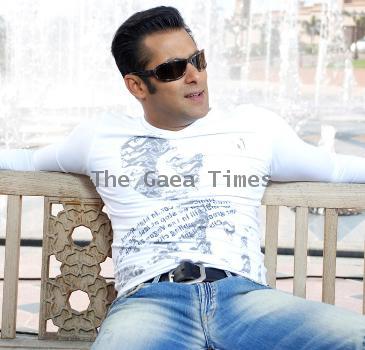 September 30, 2010 (Sampurn Wire): On Sunday evening, Sonakshi Sinha showed up for the Dabangg party post-midnight with one of her twin bothers, while earlier in the evening Sonakshi's mother Punam Sinha was escorted by her other twin brother.
Confused by the identical twins' double entry into the venue of the party, Salman insisted on calling each of the Sinha twins 'Luv-Kush'.
Says an onlooker, "Salman earlier saw one of the twins walk in with Mrs Sinha (for the record it was Luv Sinha who escorted his mom). Then much later, after midnight, long after Mrs. Sinha had left with her son, Sonakshi walked in with another twin (Kush Sinha). So Salman played it safe and referred to them separately as 'Luv-Kush'.
Says a source close to Dabangg, "Whenever Salman sees either of Sonakshi's brothers he calls him 'Luv-Kush' just to be on the safe side. Though the two of them are dissimilar in many ways, Salman is constantly confused about which Sinha twin is which. So no matter which twin he sees, he calls him by both names."
From Sunday evening, Salman Khan and his Dabangg gang partied until 7 am on Monday morning.
At the Vie lounge in Juhu, Salman and the Dabangg team couldn't stop dancing to the Munni track with each and every guest. Among the non-Dabangg gang who dropped in there was Aamir Khan, Vidhu Vinod Chopra and David Dhawan.
At around 2 am when the party was over at Vie, Salman suggested they all go to his home in Bandra to continue the party.
Says Sonu Sood, "It was basically Salman's non-film friends and just some of us from the Dabangg team… Sonakshi, me and a few others who accompanied Salman home. We stayed there until around 4 am. After that Salman took us to a builder-friend's house. We finally wrapped up at 7 am."
In fact, the party started on Sunday afternoon when Ramesh Taurani had thrown a brunch party for his wife's brother's wedding.
Says Sonu, "I'm not much of a party-goer. And I don't drink at all. But I must say the Dabangg party and specially the after-party at Salman's place made me feel very special. Salman has taken me under his wings. He says I should watch my steps and I'll be doing well for myself in a year. That evening he also presented me a Being Human watch."
At Salman's home more plans were made for Dabangg 2.
Says Sood, "I suggested my twin brother's character should be called Safedi Singh with the the line, 'Safedi ki chamatkar door-door tak phaili hai'. Salman loved it. Our director Abhinav Kashyap has already started writing the sequel."
– Subhash K Jha / Sampurn Wire