Priyadarshan Wont Take Cuts Or An Adults CertificateOn The Censor Clamp On Aakrosh : Well Fight This Out.
By SAMPURN
Tuesday, September 28, 2010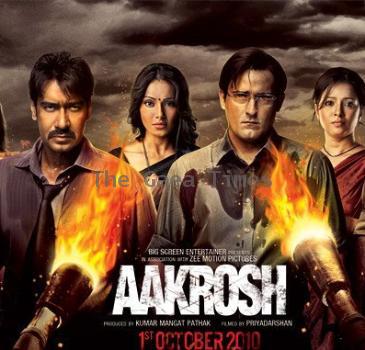 September 28, 2010 (Sampurn Wire): There is no honour in honour killings. And there is certainly none in the censorboard clamping down on the dialogues and scenes depicting this gruesome age-old ritual that has lately made a comeback into our lives.
The censorboard has clamped down heavily on the dialogues and visual of Priyadarshan's Aakrosh film on honour killing. Ironically the Aakrosh producer Kumar Mangat's earlier film Omkara which replicated the visual and vocal violence of the same North Indian backwater town as Aakrosh got away scot-free with its abusive soundtrack and visceral violence.
But then as the producer Mangat explains, "We had agreed to take an Adults certification for Omkara. We want a UA(for children under parental guidance) for Aakrosh."
Sounding discernibly upset from Chennai the prolific Priyan says, "This is the first time in my entire career of 25 years and 81 films that a film of mine has got into censor trouble.And I am not amused. On the one hand I am accused of selling-out to mindless comedies.None of my supposedly mindless comedies have ever got into trouble. On the other hand when I make an issue-based film it gets stuck.How will I do something meaningful when our moral guardians don't seem to believe in my vision?"
Priyan admits there are shocking scenes of violence in the film. But he feels they are indispensable to the theme.
Argues the director, "How can I put across a a social issue without hardhitting visuals? Let the film go to the revising commmitte.My producer Kumar Mangat and I are not accepting any cuts." Priyan insists Aakrosh occupies the entertainment space. And he wants it to be accessible to young viewers. "It is hardhitting. But not an offbeat experimental film. We want younger generations to watch the film, to become aware of the frightening reality that surrounds their existence. Unless we let younger viewers grow aware of the reality we can't change the aberrations in society. So yes, I won't settle for an A certificate.Let me make films that have a social purpose. Or I go back to making De Dana Dan."
– Subhash K Jha / Sampurn Wire