Spencer Pratt Apologizes
By Madhusmita, Gaea News Network
Friday, September 10, 2010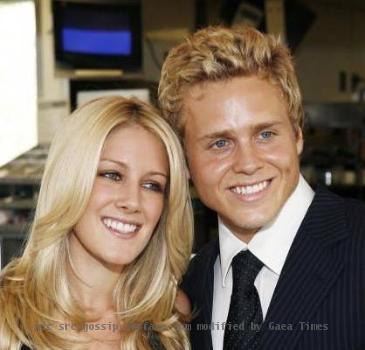 more images
LOS ANGELES (GaeaTimes.com)- It seems that Spencer Pratt is going through self-realization these days. "The Hills" star recently hogged the limelight when he reportedly said that he would leak out his soon to be ex-wife, Heidi Montag's sex-tape to Vivid Entertainment. However, Spencer Pratt recently apologized to Heidi Montag in his interview to a reputed media source where he took the whole blame on himself for the divorce and the whole controversies afterwards.
Heidi Montag filed for legal separation from Spencer Pratt last June where she gave the reason as implacably hostile differences between the couple. Last Wednesday Spencer Pratt told a media source that the process of divorce can be "trying, draining" and also emotionally exhausting experience for the people who are involved in it. He also maintained that in a relationship people manage to face the situations with "dignity" and maturity and he failed to do it in his relationship with Heidi Montag. Spencer Pratt also went on to say that he embarrassed Heidi Montag by making their certain private issues "public". He apologized to his wife for his "outrageous" an "infantile" behavior.
Spencer Pratt also added that Heidi Montag never deserved the pain and "anguish" he put her through and he hopes that someday she will be able to forgive her. At last he said that even their relationship has changed, he would always count her among his best friends. However, Heidi Montag did not comment anything about the whole incident. On the other hand a source close to Heidi Montag and Spencer Pratt said that the reported divorce and sex-tape scandals are all their publicity stunts as they are still a couple. However, the media is waiting for Heidi Montag to comment something about the whole incident.