Shiney Ahuja In News Again!
By Arnab Ghosh, Gaea News Network
Wednesday, September 8, 2010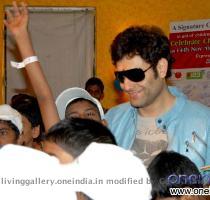 more images
MUMBAI, INDIA (GaeaTimes.com)- Actor Shiney Ahuja who became the favorite whipping boy of the Indian media for the so called sex scandal involving his housemaid is back in news again. However this time he has not done anything. His maid who had earlier alleged that he had raped her has done a dramatic turnaround and said that the actor had not actually raped her last year. This may come as a shocking news for Bollywood since it was divided in opinion on the role the disgraced actor had played. The maid who has come under the scanner of the law said a fast track court that her accusation against the actor was false.
Kashinath Dighe the public prosecutor said that the maid has been termed as a hostile witness after her u turn act. However the revelation has taken a lot of people by sheer surprise because the actor has admitted that he had consensual sex with the woman in question. Even the medical tests conducted later confirmed the rape. After the scandal broke out the actor Shiney Ahuja was taken into police custody and at that time the woman accused him of raping her and also threatening her to keep the incident under wraps.
Shiney Ahuja got support from his spouse after the sex scandal broke out. The case however has not been closed and the next date of hearing has been set on 15th of this month. Based on other evidences the actor may still face conviction. The maid may also be subjected to legal punishment if it is proved that she misled the court and judges.