Zsa Zsa Gabor Survives Critical Emergency
By Shaon, Gaea News Network
Tuesday, August 31, 2010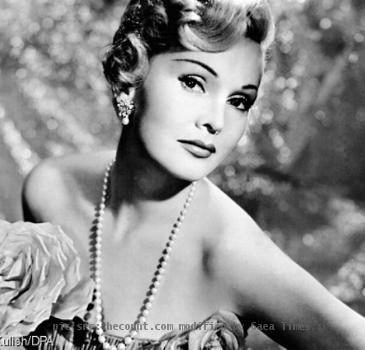 more images
LOS ANGELES (GaeaTimes.com) — Zsa Zsa Gabor had requested for her last rites to be read out as she battled with death at Los Angeles' Ronald Reagan UCLA Medical Center. Reports are coming that her condition has worsened due to complications arising from removal of two blood clots in course of her hip surgery. But a recent update suggests that the 93 year old celebrity's condition is not life threatening. She also expressed her desire to spend her final days in home
Zsa Zsa Gabor, one of the pioneers of the concept of "Celebrities" in Hollywood was hospitalized on July 17th. She was said to have fallen out of bed while watching the television. The actress was also the winner of the Miss Hungary contest in 1936. Her claim to fame came after her last minute replacement in to a talk show where she said.
Oh, Dolink, zese are just my vorking diamonds.
She was also noted for her temper as she slapped a police man once. Her film career was nothing special but she did appear in movies like
Lovely to Look At (1952) and Lili (1953) at MGM, and in Orson Welles' Touch of Evil (1958); and the delightfully awful Queen of Outer Space (1958) and Picture Mommy Dead (1966). One of her most famous works is the exercise video released in 1993 titled "It's Simple, Darling".
A religious person, Zsa Zsa Gabor was a firm believer in the institution of marriage. She was quoted as saying
I don't believe in living in sin, so I always got married.
Zsa Zsa Gabor is now in her ninth marriage with her husband being none other than Frederic Prinz von Anhalt, the Duke of Saxony. Her kitty of former husbands also includes Jack Ryan and the Academy award winning Jack Ryan. Interestingly Jack later married her sister Magda. Keep an eye on this space as we update the story.