Cy Waits Arrested
By Madhusmita, Gaea News Network
Sunday, August 29, 2010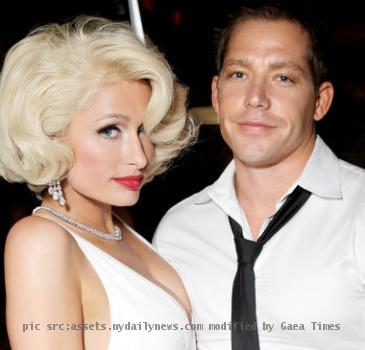 more images
LAS VEGAS (GaeaTimes.com)- The American socialite Paris Hilton and her boyfriend Las Vegas nightclub mogul Cy Waits made headlines after the couple was arrested last Friday in Las Vegas around 11:30 p.m. The police reports that they were in an SUV and it looked like marijuana was being smoked inside. The representative of the "House Of Wax" actress has not commented on the matter.
The police reports that Cy Waits and Paris Hilton were in a black Cadillac Escalade near the Wynn Las Vegas Hotel when police smelled marijuana coming from the vehicle and pulled it over. The media reports that the couple was arrested on DUI charges. The law enforcement official also said that after searching Paris Hilton's bag, they found a small amount of cocaine and hence arrested the couple under a felony drug charge. Paris Hilton claimed that the purse that had a small amount of cocaine did not belong to her. However, if convicted she could end up in probation. Cy Waits was charged with driving under the influence and his lawyer Richard Schonfeld posted $2,000 bail for him. However, the media could not report the news of his release.
The media reported that Cy Waits and Paris Hilton were booked at Clark County Jail. Paris Hilton was, however, released early Saturday morning. A reputed media source reported that Cy Waits is being held until his arraignment. Neither the socialite nor her boyfriend has commented about the arrest. Paris Hilton was arrested during the Brazil-Netherlands World Cup match in Port Elizabeth, South Africa, early this year on suspicion of possessing marijuana. However, the case was then dropped at a midnight hearing. In 2007 Paris Hilton spent 23 days in jail in connection to a drunken driving case.