Interview with Nagesh Kukunoor
By SAMPURN
Saturday, August 28, 2010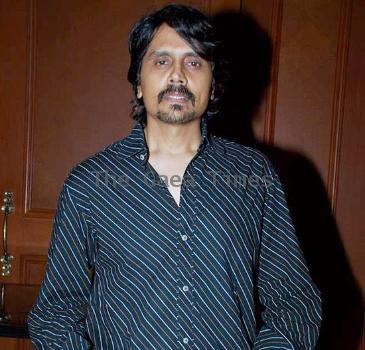 August 28, 2010 (Sampurn Wire): Nagesh Kukunoor tells Jyothi Venkatesh that he feels excited as a director when he casts an actor against the tide.
How would you describe your film 'Aashaayein'?
'Aashayein' is a sensitive story of hope, wishes and triumph of human spirit. 'Aashayein' encourages people to live their dreams and fulfill all their wishes. I'd say that 'Aashayein' is the story of a compulsive gambler who discovers new meanings of fortune and life through a dramatic turn of events. It is about how Rahul Singh goes from living an insignificant life to really living it. It is the story of his journey from darkness to the light. 'Aashayein' is an inspiring, bitter sweet fable that reminds the viewer that life is short and to make the best of it. 'Aashayein' is, just as the title suggests a film which focuses on hopes. It teaches us to live life today and not tomorrow. The philosophy of the film, if truly followed, is liberating.
What is 'Aashayein' for you as a director?
Sometimes you want to take on a subject that not many will touch. Sometimes you want to tell the ultimate love story – not the traditional one between a man and a woman but one between a man and life. Sometimes you want to take a journey to beat all journeys. Sometimes you want to be reminded to live life now! That for me is 'Aashayein'. I wanted to tell the story of a man who is faced with a challenge since he has only 90 days to live. I wanted to explore the magic which exists in every one's life. Honestly John Abraham was my first choice for the character.
Why was the title of the film changed from '90 Days' to 'Aashayein'?
'90 Days' was actually the working title but we decided to change it to 'Aashayein' because it sounded like I was making a thriller.
Why did you choose John Abraham as the protagonist of your film?
As a director, I always feel excited when I cast an actor against the tide. I have to believe that an actor will deliver or else it will be hara - kiri for me as a director. What I like about John is that there is an inherent honesty in him. I felt that if I could bring that to the screen, I'd be able to do my job. I watched John's film 'Dhoom' only after I cast him in 'Aashayein'. I am glad I did not see the film before I cast him in my film because I'd have had a different perception about him. It is not necessary that every actor can do every role. Naseeruddin Shah is the only exception to the rule, because with 'Jalwaa' and 'Tridev', he proved that he can do even a mainstream film with effortless ease. You should be smart enough as a director to use an actor's strong point when you cast him in your film.
Do you make a film keeping in mind the audience?
Right from my first film 'Hyderabad Blues', I have never thought about the audience when I set out to make a film. I feel that though film making is actually a business, where you keep your target audience in mind you should always be honest to your story. Only when you give the audience a choice, will you be able to realize what they want. Not otherwise.
Where had you disappeared after the dismal failure of your last film 'Tasveer - 8×10'?
It is very frustrating for a filmmaker when his film does not reach the audiences. Though my films 'Aashayein' as well as 'Yeh Hausla' are ready, Percept guys did not at all bother to release them. It is only now when Big Pictures took over 'Aashayein', that there is some buzz about the film.
Why did your film 'Tasveer- 8×10' flop?
No one knows why a film runs or why it flops. I'd blame Percept Pictures for not promoting 'Tasveer 8×10' though it had a big star like Akshay Kumar. The fact that it was the only film which was being re-released during the multiplex strike was not hammered properly and people did not know that the film was being released. I suppose it was wrong on my part to put all my eggs in the same basket. I committed myself to direct not just one or two but three films for Percept guys.
Would you blame Shreyas for the failure of 'Bombay to Bangkok'?
I can not blame Shreyas for the failure of the film. I simply could not connect with the audience though I made an attempt to make a comedy. I think people plunged knife into me because they expected me to make a 'Dor' or an 'Iqbal' every time instead of trying to make films in different genres. I do not dwell on the fact that a film of mine did not work. What do you learn from it? In story telling there is no right or wrong, because you either like a film or do not like it. The only thing I learn when a film of mine flops is not to make a film with a similar story again. Some critics said that 'Bombay to Bangkok' did not click because I had moved from the rural backdrop to the urban one after I made films like 'Dor' and 'Iqbal'. I think Salman Khan is the only anomaly in the entire film industry who has managed to keep both the rural and the urban masses glued to his films, as the phenomenal success of his film 'Wanted' proved.
Do you believe in driving home any message through your film?
I have always believed that entertainment should always come first when you set out to make a film and the message should be incidental. Since I always write my own script, my philosophy always comes through my script. Entertainment comes in different forms. Why would horror films work otherwise? Will you pay to get shit scared in the auditorium?
Till date you have written the script of every film that you have directed. Are you open to direct the scripts written by outsiders?
Though I am not ready to accept just a story idea for a film from an outsider, I am ready to direct an outsider's script, provided I get a bound script well in advance.
How would you describe your journey as a director from 'Hyderabad Blues' till 'Aashayein'?
'Aashayein' is my tenth film in my career span of thirteen years. I would say that it has been a fabulous journey. My joy lies in the fact that I have been able to make the kind of films that I have always wanted to make though in this industry you are often forced to compromise and make the kind of films that you do not want to make. I do not think that the journey is going to stop.
In what way have you evolved as a director with the changing times?
I wrote my films 'Hyderabad Blues' and 'Bollywood Calling' from a rank outsider's point of view. Would you believe it, I made 'Hyderababd Blues' on a meager budget of just 17 Lakhs. Today I am an insider and hence today if you ask me to write from an outsider's point of view, I will not be able to write a similar story at all. I am of the opinion that different phases in your life appeal to you in different ways. Earlier Steven Spielberg did mainstream stuff but eventually he switched to making films which belonged to the dark genre. Now he is making 'Tin Tin' at the age of 55 to cater to kids. Though I enjoyed watching 'Predators', I would not be able to make a predominantly violent film like it because it does not appeal to my sensibility. I realize that as far as films are concerned, there is a lot of difference between things that you like and things that you make.
– Jyothi Venkatesh / Sampurn Wire