Insaaf will be very entertaining, after all its my show-Rakhi Sawant
By SAMPURN
Thursday, August 26, 2010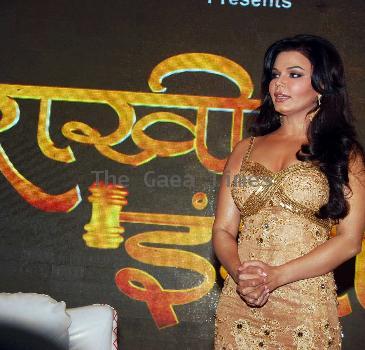 August 26, 2010 (Sampurn Wire): You can hate her, you can love her, but you cannot ignore her, is the saying which is precisely meant for Rakhi Sawant. This girl sets the TRP high, of every channel that she appears on. This item girl is all set to entertain her audience once again. Her new show named 'Rakhi Ka Insaaf… Dil se' will be launched with in few months. Talking about the show, she spoke out her heart out to TellyCafe, totally living up to the show's tittle.
The kind of personality you have, strong, bold and independent, why did you select a show with such a serious content?
People assume that I am very funny, well I am not like that. One cannot show his pain in public. Since my childhood I have seen many sins happening in front of me, I have tolerated many things in my life, which has made me so strong that today I can fight any thing that comes my way. The pattern of the show, will be how all the cases (social problems) are solved in my style, that is Rakhi Sawant style. I am not any degree holder or any white collar guy with stars on my shoulders, but I am the one who has gone through these circumstances and so, I think I can do justice with out being bias.
What kind of cases you will be dealing with, in the show?
I will deal with all kind of social cases like eve teasing, casting couch, extra marital affairs, child abuse and many more. I am not going to give any verdict on legal bases, but I will be dealing with the victims on an emotional level. There are many cases I can't even recall now. But the most interesting one which I remember is, about this wife, who physically abused her husband and harasses him really badly. I won't be dealing with any dangerous cases, which could result in police case and court matters.
What kind of costume you would be seen wearing, in the show?
As I have not started shooting for the show, I really don't know what kind of attire I will be wearing but there won't be much of a change in my style. I will be either wearing my hot dresses or sarees. It all depends on the nature of the case. I will be personally researching on the cases, and decide my costume according.
Don't you think people will get bored?
I am sure they will not, it will be one hour of full entertainment; after all it's my show. And how can people expect no entertainment from my show. My audience will definitely enjoy this with out a doubt and start believing in me.
What will be the format of the show?
I can't say much on the format of the show but I will be always standing by the truth. I will make both the parties feel comfortable and then will ask them to put forward their issues. They will have to come in with their proofs, and depending on the situation I will give my final verdict.
But before calling them on the show, I will personally research on the case. I have never taken the wrong persons side in my life, no matter what happens.
Tell us something about your relation with Imagine?
I am Imagines' daughter (Mein Imagine ki beti hun)
Would you like to be a part of another season of Swayamvar?
Why not? I will do another Swayamvar if it happens. To be clear, I always wanted to be with this right person, but unfortunately I never had that right person in my life. Even though I said that I want to marry, but it's not necessary to. Why should I spoil my life? When I know that person isn't capable or the right one to settle with.
Would you like to say few words for your audience?
Dear Audiences I know, what you think about me? But I am what I am and I am really proud to be like that and I won't change at any point of time.
We wish you loads of luck Rakhi!!!
-Tejashree Bhopatkar / Sampurn Wire