The Truth About 'A Few Good Men'
By Shaon, Gaea News Network
Saturday, August 14, 2010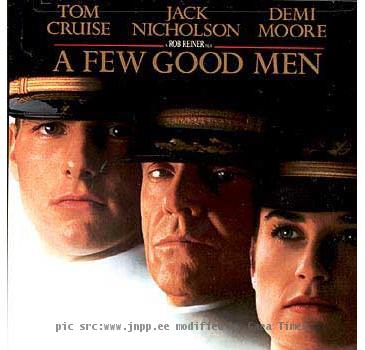 more images
LOS ANGELES (GaeaTimes.com) — The fans of Hollywood legend jack Nicholson are almost as moody as the actor himself. The actor was part of many great movies throughout his career that spans almost five decades. He featured in immortal classics like 'A Few Good Men', "One Flew Over the Cuckoo's Nest", 'The Shining', 'Chinatown' and many others.
A Few Good Men was amongst the very few movies that had a stellar star cast and a strong script. The movie starred actors of the caliber like Jack Nicholson, Tom Cruise, Demi Moore and Kevin Bacon. But the thing people remember of this movie is the outstanding performance by Jack Nicholson as the villainous Col. Nathan Jessep. Lt Daniel Kaffee (Tom Cruise), a lazy navy lawyer known to make 'out of the court settlements', is given the case to defend two hardened marines (Wolfgang Bodison and James Marshall). The marines are accused of killing a colleague. Kaffe gets an unlikely ally in form of the dedicated Cmdr. Galloway (Demi Moore). As Kaffee goes deeper into the case he finds that the seemingly simple case is a part of a vile truth. His suspicion turns towards charismatic Col. Nathan Jessep, the in-charge of the army company, where the crimes took place. But the problem is that the colonel is virtually untouchable and one wrong move on Kaffee's part would end his career in the army.
Jack Nicholson and Tom Cruise create a legendary scene towards the climax. As per the script of the movie
JESSEP
You want answers?

KAFFEE
I think I'm entitled to them.

JESSEP
You want answers?!

KAFFEE
I want the truth.

JESSEP
You can't handle the truth!
The seemingly blunt exchange was taken to another level by the two fine actors. This exchange remains etched in the heart of people, who had the fortune of watching the movie. The movie was incorporated into AFI's Top 10 Best Courtroom Drama. The "You can't handle the truth!" dialog figured in Top 10 Greatest American Movie Quotes by AFI as well. The movie received 4 Oscar nominations including Best Actor in a supporting role for Jack Nicholson. So if you did not see the movie go rent a DVD and watch it. If you have seen it share your thoughts with us.