Love Guru Special On Sajan Re Jhoot Mat Bolo
By SAMPURN
Tuesday, August 3, 2010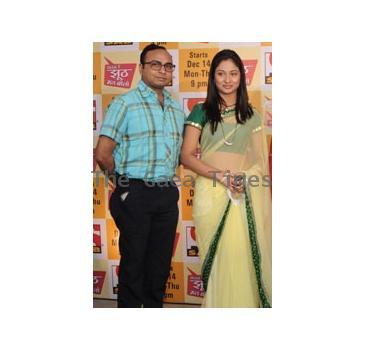 August 3, 2010 (Sampurn Wire): SAB TV's 'Sajan Re Jhoot Mat Bolo' will now finally see the most waited moment of the show as soon Pankaj (Manoj Goyal) and Preeti (Melissa Pais) are going to tie knot with each other. And on these account the show will have its special love guru episode where the two lovers will fall for each other.
A source says, "Soon love will be in the air in 'Sajan Re Jhoot Mat Bolo' as Pankaj, who was against marrying any one, will start falling for Preeti. Because Preeti's mom, Maria Aunty, essayed by Vandana Gupte, will arrive in the house as an eye-opener for the family members especially for Pankaj. He will fall for Preeti and will try to woo her and her mom. In between, Sumeet (Apoorva) and Apara Mehta (Damini Diwan) turns Cupid for the duo as they both will give love tips to Pankaj to win over Preeti and her mom. Eventually, he succeeds with his tricks and they both get married. There will be many special occasions on the show for Pankaj and Preeti's marriage".
We contacted Sumeet Raghavan and he says, "Well, yes this kind of episode is going to happen soon but we have not yet started shooting track as we would start its shoot by today and tomorrow. But hope it brings more colors to the show".
Well we congratulate Pankaj and Preeti for their on-screen love and marriage.
–Tejashree Bhopatkar/ Sampurn Wire