Movie Review: Milenge Milenge (2010)
By SAMPURN
Friday, July 9, 2010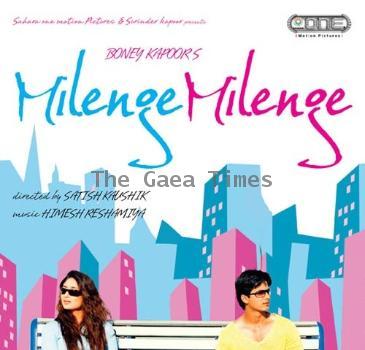 Milenge Milenge: Boring
Rating: 1.5 out of 5*
Starring: Shahid Kapoor, Kareena Kapoor, Aarti Chabbria, Satish Shah and Delnaz Paul
Director: Satish Kaushik
July 9, 2010 (Sampurn Wire): Milenge Milenge is a poor rehash of John Cussack – Kate Beckinsale starrer romantic comedy Serendipity (2001) that was about destiny bringing two lovers back together. But perhaps makers Boney Kapoor and Satish Kaushik were not as lucky to quickly encash on its success as their copy took a good seven years to come on screen. In the meanwhile a small film starring TV actor Sarwar Ahuja and veteran actress Tabassum's granddaughter Khushi titled Hum Phirr Milein Na Milein released and flopped last year carrying the same plotline.
Milenge Milenge narrates the tale of Priya (Kareena) and Immy (Shahid) who meet each other in Bangkok and fall in love. However when Priya (Kareena) gets to know that Immy (Shahid) used her diary to know what she liked so that he could impress her, she dumps him. Immy manages to convince her to give him one more chance. And Priya writes her name in a book and Immy's name in a Rs. 50 note and gave it away to different people, adding that if they ever get back those two items it would mean destiny wants them to be together.
Milenge Milenge is not only badly written and looks like an amateurish attempt but is completely dated in its approach by Satish Kaushik. The way Kareena's character is established in the opening credits is quite passé and the subsequent series of events completely bore you. The film is full of stereotyped characters and monotonous dialogues which would have not worked even back in 2005 had it been released then. Himesh Reshammiya's music also does not click. The film is shot and edited very inconsistently as well.
If one expects at least the acting to be a good thing about the film then there is disappointment in this department too. Shahid carries a huge Shah Rukh Khan hangover and irritates while Kareena is just about passable. Aarti Chabbria hardly gets any scope. Rest all are plain average.
The film falls completely short on any expectations that you may have. Watch it only if you have the curiosity of checking out Shahid and Kareena together for probably the last time. Otherwise please stay miles away from Milenge Milenge.
–Sampurn Wire