I Feel That As A Filmmaker, I Have Improved By Miles From Dil Vil Pyar Vyar To Red Alert: Ananth Mahadevan
By SAMPURN
Friday, July 9, 2010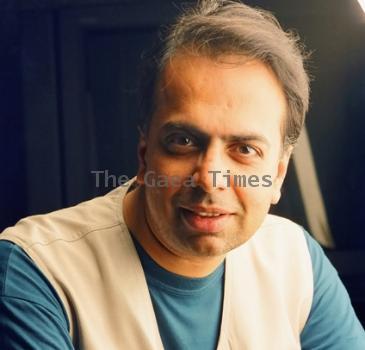 July 9, 2010 (Sampurn Wire): On the eve of release of his latest film Red Alert, Ananth Mahadevan tells Jyothi Venkatesh that he opted for Sunil Shetty because of his looks, especially since he did not want to cast an actor from the parallel cinema as everyone will dub his film a predictable art house film.
Red Alert is unlike your brand of films till date!
Why not? Somewhere after writing simple poetry and prose, you strive to read Shakespeare. Isn't it? All of us including me have to graduate to the higher level. Red Alert is my way of taking not only cinema more seriously but also making people take me seriously as a filmmaker. I want to grow and become more mature as a filmmaker. It is very difficult to keep everybody happy all the time.
Was it a cake walk to convince producer T.P. Aggarwal to launch a serious issue based film like Red Alert?
It was quite tough to convince Aggarwalji initially because we were actually in the process of discussing a thriller for his production house and not an issue based film like Red Alert. I had made thrillers like Agar and Aksar which had clever plots, but I was not happy with any of the new thriller scripts. One day I read in a newspaper about a poor farmer in Andhra Pradesh who was unwittingly caught up in the vortex between the Naxalites and the cops. I narrated a one line idea to Aggarwalji and could not believe it when he approved it immediately.
Why did Red Alert take nearly three years to make?
I spent the maximum time on the research as well as on paper work of Red Alert. It was director like Aruna Raje, who is known for her sensitivity, had taken over from my one line idea and written the screenplay and the plot. Aruna flushed out the characters and situations and wrote the dialogue in English which were translated into Hindi by writer-director Raman Bharadwaj.
What according to you is the USP of Red Alert?
I'd say that the USP of my film is that there is no compromise, no gimmicky camera angle, no over the top performance etc. The intention was to transport the viewer to a real Naxal camp.
What message did you set out to drive home through Red Alert?
I am not trying to drive home any message through my film. I have just set out to portray the situation as it exists today and depicted the stand that the law of the land and the government has taken vis a vis the Naxalite movement. If you look at the map of India, it looks like India is bleeding everywhere because of various problems. The issue is bigger than what we imagine. In fact, today Naxal movement is actually at its peak.
Weren't you tempted to take up a cameo role in your film since you are an actor too?
Frankly speaking, it is a film with which the actor in me wanted to be a part of. The truth is that I wanted to do the role of the journalist that Makrand Deshpande did but felt that it would have been too tough for me to cast myself and also direct the film.
Why did you zero in on an actor like Sunil Shetty for the role of Narasimha?
I opted for Sunil because of his looks. Sunil surprises you with his unpredictability as an actor. I have always believed in breaking images, as an actor too. Initially, when I approached him for the role, Sunil actually told me not to make a solo film with him. It was only when I told him that I was keen on making a film on a burning issue and narrated the subject to him that he jumped at the offer. Today every actor is waiting for the right concept but not getting it.
We could not recognize Sameera Reddy in your film because she was covered from top to toe!
I knew that Sameera had acted in Mira Nair's film Migration and Buddhdeb Dasgupta's Kalpurush. I hold Buddhdeb Dasgupta in great esteem. I felt that Sameera possessed a spark which needed to be brought out and hence cast her. The best thing about Red Alert is that not a single actor has been wasted. Every actor has played his or her part well. No actor asked me what the length of his or her role was. It was Naseersaab who opted for the role of the drunkard, though I was ready to offer him the role that Vinod Khanna did, because he felt that he had essayed similar characters before.
How was the experience of directing a film like Red Alert?
I felt drained and exhausted after completing the film. I shot for 40 days continuously. Initially it was in the dense jungles of Tirupati, which was a Naxal infested area. Later we shot in the edge of Khandala-Lonavala, where we had a replica of the jungle in Tirupati. I hope that my effort is recognized as a new step in Indian cinema, because I feel that only then can the face of Indian cinema be changed.
How would you evaluate your growth from a small time actor to a director?
I feel that I have improved by miles. I have always tried to give something different in every film of mine, even when I have made mainstream films, whether it was Dil Vil Pyar Vyar, Dil Maange More or for that matter Anamika or Agar, Aksar or the English film Staying Alive and finally I think that I have reached my destination. I feel that as far as I am concerned, a new journey has begun now. Staying Alive, Red Alert and Mee Sindutai Sabkal are the first three steps that I have taken in that journey.
What next in the pipeline?
I have directed a film in Marathi called Mee Sindutai Sabkal with Upendra Limaye, Tejaswini Pandit and her mother Jyoti Chandekar. It is an amazing story of survival of a woman, set in rural milieu. While Tejaswini plays the character from 20 to 40, her mother plays the character from 60 to 65.
– Jyothi Venkatesh/Sampurn Wire