Prince Honored At Beta Awards
By Ipsit, Gaea News Network
Monday, June 28, 2010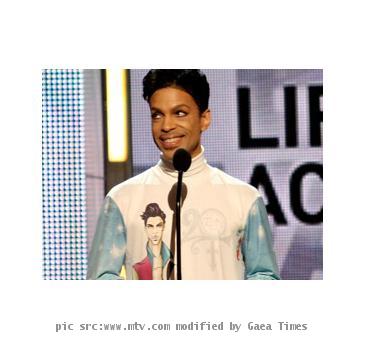 LOS ANGELES (GaeaTimes.com)- Singer Prince was honored with the prestigious Lifetime Achievement Award at the 10th Annual BET awards on Sunday. Prince was extremely elated as he received the award and said that he was "pretty wild" in his "younger days".
Before Prince was honored with the Lifetime Achievement Award, BET also staged a tribute performance for the singer. Janelle Monae performed the all time favorite "Let's Go Crazy," which was followed by an upright bass performance from jazz bassist Esperanza Spalding who sang "If I Was Your Girlfriend." As he climbed the stairs of the stage, Prince wore his signature silk pajama which have inspired many fashion aficionados.
Prince said that it's a great experience for him to be up on the stage receiving the Lifetime Achievement Award. The singer was all in praises for the upcoming performers and proclaimed that the future of music is in the hands of talented souls. Prince underlined the fact that America has witnessed changes in the past and in days to come the change shall be a greater one which shall involve one and all in the music industry. Prince who gained immense popularity for his raunchy performances underwent a religious conversion and appeared to be soft spoken and calm in his words. It was evident that his eccentricity and sudden swing of mood was all gone and Prince approached the stage in a real humble manner on Sunday. As he left the stage, he thanked Debra Lee and Stephen Hill and said that it was one of the best nights of his life and he is going to remember it forever.