'Fela' Wins Three Tonys
By Naiwrita Sinha, Gaea News Network
Monday, June 14, 2010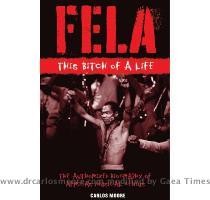 more images
LOS ANGELES (GaeaTimes.com)- 'Fela', the musical production by Bill. T. Jones, is presently on a roll. A reissue project is being talked upon, and a film on the subject is in the pipeline. In fact, it had also been nominated in eleven categories in all in the 64th Annual Tony Awards. It won in only three categories, however, those for the best costume design in a musical, best sound design in a musical and best choreography. However, the most surprising aspect was that the production failed to win a Tony award in the category of the Best Musical, which, according to critics, obviously came as a major setback in expectations for a production that was being touted as a musical.
'Fela' is a musical based on the life of one of the most controversial and influential of the Nigerian musicians, Fela Anikulapo-Kuti. In fact, he was not only a great musical figure. he was also, actually, one of the most eminent political personalities, and manged to bring about an immense change in the musical and political scenario of the country. Moreover, he also led a rather controversial life, controversy being something that followed him to his death, after he succumbed to AIDS.
The music in the production, 'Fela', had been given by Fela Anikulapo-Kuti himself, a fact that added to the mystery of the production not receiving an Award in the category of the Best Musical, considering that the production contains some great African beats by the great musician himself. However, critics opine that it is a good sign that the production has managed to win three Tonys.