"Cupcake Wars" Features Hollis Wilder
By Sayantika Ghosh, Gaea News Network
Monday, June 14, 2010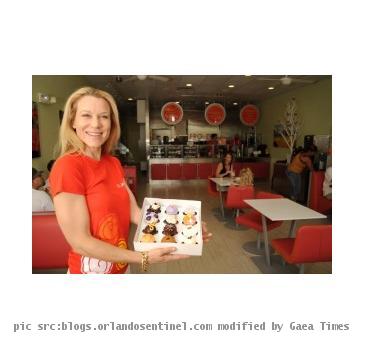 NEW YORK (GaeaTimes.com)- "Food Network" aired its special episode on "Cupcake Wars" on Sunday which featured Hollis Wilder talking all about her new cake concept to the viewers. Hyped as the "improbable" concept "Cupcake Wars" witnessed the baker from Orlando speaking of salmon concoctions which she considers to be a divine one in its making.
In her words, the "divine" cupcake is markedly different from what is baked and served at her store "Sweet!"
Hollis Wilder said that these cupcakes are the special ones owing to the fact that they are baked to be served immediately. She made special mention of the lemon scented cake which according to her was one of the very best and any one would feel the same at the first bite. Hollis Wilder also said that she is definite that her appearance at the "Cupcake Wars" would definitely boost the popularity for her store "Sweet!" which is located at the Lakes Town Center in Waterford. "Cupcake Wars" also offered a glimpse of Hollis Wilder's earlier life where she used to serve as a chef for celebrities at Los Angeles. Hollis Wilder said that she had baked cakes for prominent celebrities like Kevin Costner, Tom Cruise, Rolling Stones and Jay Leno.
Hollis Wilder said that she was really nervous at the first round of Cupcake Wars which had her bake the salmon cupcake. In her opinion "Cupcake Wars" gave her a unique chance to "think outside the box". She said that she loved each and every moment of the show which gave her a scope to compete with herself which she thinks is a different experience for her.