CMA Awards Announced
By Ronee Roy, Gaea News Network
Thursday, June 10, 2010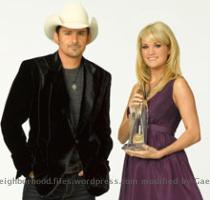 SAN FRANCISCO (GaeaTimes.com)- The most anticipated country music event the CMAs have been announced. The Country Music Association will conduct the Awards ceremony on the November 10 this year at the Bridgestone Arena in Nashville, Tennessee. The chairman of the board of directors of CMA has said that the CMA awards are a great opportunity for the body to honor the various country musicians, songwriters, producers, performers and music video directors.
The Country Music Associations Awards are also a great opportunity for the fans to see their favorite country stars perform onstage in solo and collaborations plus the chance to see the new upcoming talents in the industry. The awards are also a great platform for the country musicians to showcase their talent to the rest of the world. The awards will be covered by the ABC Network and will be aired at 8pm on the above mentioned date. There will reportedly be a one hour broadcast of the Awards night.
The CMA Awards are given in 12 categories. The categories are sometimes modified according to new trends like the video revolution and collaborating artists, etc. The categories to be considered this year are -Entertainer, Male Vocalist, Female Vocalist, New Artist, Vocal Group, Vocal Duo, Single, Album, Song, Musical Event, Music Video , and Musician. Categories like Musical Event are meant for honoring the one-off collaborations take place where as Vocal Duo is for the singers who usually perform duets together. There are nine more awards that include 'Station Of The Year' and 'Personality of the Year'. These two have been divided into 4 more sub-categories based on their market-size. There is also an Award for the 'National Personality Of The Year' that goes to the best host of any Nationally broadcast show.