Buddy Valastro- The "Cake Boss"
By Sayantika Ghosh, Gaea News Network
Tuesday, June 1, 2010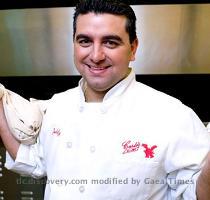 NEW YORK (GaeaTimes.com)- Buddy Valastro of Hoboken's Carlo's Bake Shop is the new "Cake Boss" for the Season 3 of the TLC show. The premier episode of the third season had Buddy Valastro baking a cake for Governor Chris Christie. Besides, he also made a splendid come to life cake figure of his wife which was all draped in rich chocolate.
"Cake Boss" in its third season features a new segment called "Crazy Cake Creations" where Buddy Valastro and his crew threw in their very best of cakes which are also one of their finest in cake designs. There was bull shaped cake for the stock market and a market closing bell. Above all was the National Train Day cake which was 25 feet long and 10 feet wide. According to Buddy Valastro, this is one of the best cake designs that he has created till date. Infact the cake boss said that the train day cake has been a great source of inspiration for him and his crew as they went ahead to carve out more crazy shaped cakes. He wants to have cakes bigger and crazier and appreciates all big or small ideas for the design.
Buddy Valastro called his meeting with the Governor to be a dream come true for a "jersey boy". Buddy Valastro also did the voiceover for the show himself as he described the cake. Buddy Valastro went ahead to display his second creation of the day which was a cake replica of his own wife. It was a different experience altogether to witness how the master cake maker has carved out such a fine design which was 5 feet tall.