Sushi Ko On Fox Tonight
By Arnab Ghosh, Gaea News Network
Saturday, May 15, 2010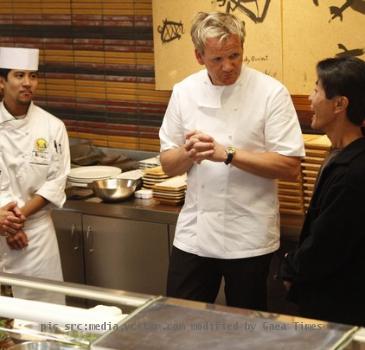 more images
VENTURA COUNTY (GaeaTimes.com)- Master Chef Gordon Ramsay is known for his matchless entrepreneurship skills and innovativeness through which he has saved many ill managed restaurants from the brink of closure. He has made the reality show Kitchen Nightmares so popular with his skill set. The viewers have never seen him failing to do his job in the show. However, tonight's episode that will be shown on Fox may shock some of the viewers of the show. It will show the chef trying his level best yet failing to salvage a loss making restaurant named Sushi Ko. The restaurant was shifted to The Lakes shopping center in 2005 from Bel Air. The chef and his team tried hard and despite their attempts at its revival, the restaurant had to be closed down last year in august.
The episode covering the restaurant Sushi Ko has already been shown in the UK and the viewers in USA will get to see it tonight. The owners of the eatery, Akira Hatae and his wife Lisa Hatae saw the episode earlier too and they will watch it on Fox tonight as well. The chef and his team did a good job of makeover in the restaurant but when they left the owners could clearly feel they would not be able to keep it running for long. Their anticipation turned out to be true.
The owners of the Sushi KO restaurant have adorned their house with the stuff Gordon Ramsay used to decorate the restaurant. They still wish to own another restaurant in future if the economy turns around.