"America: The Story Of Us" Premiered On Television
By Sayantika Ghosh, Gaea News Network
Monday, April 26, 2010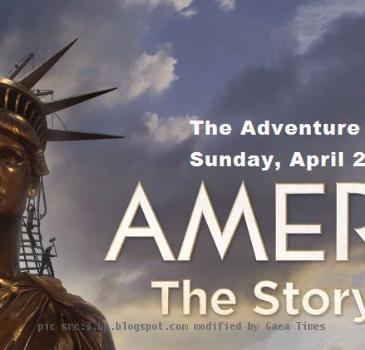 NEW YORK, (GaeaTimes.com)- The first episode of "
America: The Story of Us
" was aired on History channel on Sunday April 25. "
America: The Story of Us
" happens to be a 12 hour long, six part survey which retraces the story of America and its proud history of 400 years through two episodes. One of the most prominent actors of Hollywood Liev Schreiber had the voice over done for "
America: The Story of Us
" as the program depicted the birth story of America and how the nation moved forward to achieve its grand stature. America: The Story of Us narrated the story of Mayflower settlers who were the early cries of religious freedom and went along to depict the tale of the tobacco cultivation of Jamestown and the rise of "Land Of Plenty".
"America: The Story of Us" included several snapshot interviews of a handful of eminent and influential celebrities of America that included Hollywood people Meryl Streep, Michael Douglas and Ex Army commander Collin Powell. America: The Story of Us subtitled the plot as "Rebels" which depicted the historic settlement of the immigrants in thirteen American colonies and the story of Red Indians who are believed to be the first natives of the nation.
The makers of "America: The Story of Us" are of the opinion that this docu-series will offer a sharp insight into what is still unknown about America and the American people. "America: The Story Of Us" shall be a special treat for all youngsters of the country who are ignorant of their nation's history that dates back to 400 years way after Columbus set forth his first sail around the globe.