Women aboard the Dhamaal 2 train
By SAMPURN
Thursday, April 22, 2010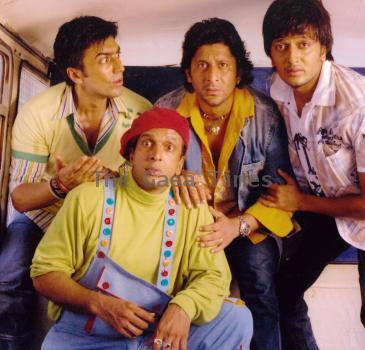 April 23, 2010 (Sampurn Wire): The Sanjay Dutt, Arshad Warsi, Ritesh Deshmukh, Javed Jaffery and Ashish Chowdhary starrer Dhamaal, which released in 2007 and was known for being an all-boys movie, which had no female lead is about to have a sequel. That's old news. But the sequel, like its prequel, was going to have no heroines.
The producer, Ashok Thakeria, and director, Indra Kumar, who had earlier announced that Dhamaal 2 was to be an all-boys affair, have gone back on their word. They have now decided on two heroines for the movie, three months before Dhamaal 2 starts shooting.
Thakeria states that they never had a policy decision not to have girls in Dhamaal. It was just by chance that the film had no women characters. At first, they thought that the sequel too would have no women, but as the script developed, female characters came into the plot too. So the movie now has two heroines.
According to sources, the female leads in the movie were added on Sanjay Dutt and Arshad Warsi's insistence. As of now, it looks like Sameera Reddy and Bipasha Basu will be playing the roles in question.
-Sampurn Wire