Rakhi suitor Manmohan wooing Jamunia girls
By SAMPURN
Monday, April 19, 2010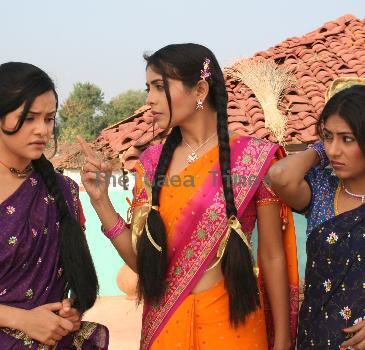 The man from Hrishikesh is getting friendly with co-actors from Jamunia
Few seasons back, he was wooing Rakhi Sawant but the drama queen failed to impress him. Manmohan Tiwari is back to his romantic ways but this time he's allegedly trying to win over two of his colleagues from Imagine TV and Beyond Dreamz production show Jamunia.
As per the script, Avadh (Tiwari) is to flirt with both Chatori (Akansha) and Batori (Preeti Jain). The two girls play cousins to Jamunia. He will eventually marry one of them. Apparently, Tiwari has taken his character too seriously and is talking sweetly with the girls off camera too.
A source informs, "He is always found hanging around with them. Recently, he went to one of the famous jheel (pond) with them and had a good time. Apparently, Swayamwar is not yet over for Manmohan. Perhaps, we might have one here too. Avadh will get married to Chatori or Batori. Depending on his chemistry with the two girls, the production team will take a call as to who will be paired opposite him."
When contacted, Tiwari rubbished off tales of him getting personal with his co-actors.
"Yes, we did go to the pond. My character will be marrying one of these girls. However, all this is on screen. Nothing personal is taking between us," said Tiwari.
-TellyCafe.com