'Gala premiere of 'The Japanese Wife'
By SAMPURN
Thursday, April 8, 2010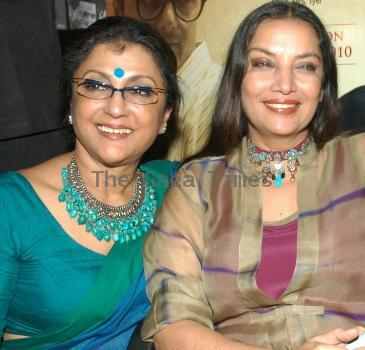 April 8, 2010 (Sampurn Wire):The gala premiere of "The Japanese Wife" was held recently in Cinemax. Apurv Nagpal, the C.E.O of Saregama welcomed the stars and guests with beautiful girls wearing red Japanese formals.
First came the director of the film, Aparna Sen with daughter Konkona wearing a white saree but Aparna looked more beautiful than her daughter and Rahul Bose wearing a dashing black suit.
First entry among the guests was made by Ramesh Sippy and his wife Kiran Juneja. Sandhya Mridul, Sudhir Mishra, Piyush Jha of film "Sikandar" fame, Raima Sen who looked gorgeous was also wearing a white saree.
Shabana Azmi, who despite being on a wheel chair came to the premiere but did not see the film because she had seen it earlier, model Sheetal Malhar, Maria Gureti, Tanishtha Chattergee, cameraman Ashok Pradhan, Divya Palat and Bigg Boss fame Claudia were amongst the guests who joined the premiere later. Ranvir Shorey was the last person to come in the premiere.
The best part of the premiere was when actress Anjana Sukhani had come to see an another show, but was mistaken by the media. The media thought that she was invited in the premiere and started taking her bytes and photos, realizing later that she had come for an another show.
At the end of the premiere, most of the women audiences came out with tears in their eyes and said that the film was very touching.
-Sampurn Wire