Movie Review: Atithi Tum Kab Jaoge?(2010)
By SAMPURN
Sunday, March 7, 2010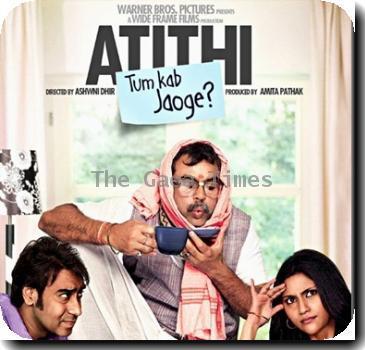 March 8 2010 (Sampurn Wire):Atithi Tum Kab Jaoge?: A clean family comedy
Rating: 3 out of 5*
Starring: Ajay Devgan, Konkona Sen Sharma and Paresh Rawal
Director: Ashwni Dhir
Lambodar (Paresh Rawal) comes to Bombay from Gorakhpur and lands up at the house of Puneet (Ajay Dev gan), his nephew. Puneet and his working wife, Munmun (Konkona Sen Sharma), had least expected the guest and were, in fact, not even aware that they had an uncle called Lambodar. Trying to be the ideal hosts, they conceal their annoyance and behave well with him and extend their hospitality to the fullest to make him feel comfortable. The crass Lambodar, on the other hand, irritates them with his crude acts and actions. How ever, he has his good side too – among other things, he brushes up their child's Hindi, much to the joy of his teacher. Yet, Lambodar soon gets on the nerves of the hosts. Puneet and Munmun begin to despair when Lambodar refuses to leave. Driven to their wits' end, they use different tricks to make him leave but somehow, nothing works as the thick-skinned Lambodar refuses to budge. What happens thereafter is revealed in the climax.
The story (Ashwini Dhir) may be thin but it is one which every family can identify with. Therefore, by its very nature, the film is a fare for the family audience. However, the screenplay is replete with toilet humour (Lambodar keeps polluting the atmosphere by passing gas, and Munmun keeps spraying room freshner thereafter), which becomes repetitive after a while. The screenplay, penned by Robin Bhatt, Ashwini Dhir and Tushar Hiranandani, is enjoyable but it has its limitations. It must be mentioned here that the crude humour will find favour with a section of the mass audience which will enjoy the jokes.
Among the plus points are the opening commentary and the animated sketches of the characters to explain the film's theme and the way in which Lambodar asks Munmun to cook food for him. Dialogues (Ashwini Dhir) are witty and funny. The domestic help's arguments with Munmun and Lam bodar are novel.
Ajay Devgan acts well. Konkona Sen Sharma is wonderfully natural. Paresh Rawal performs pretty naturally. Satish Kaushik leaves an impact as the film director. Akhilendra Mishra impresses with a fine performance. Sanjay Mishra gets limited scope but is good, all the same. Viju Khote is hilarious.
Pritam's music is far from good. Except the parody of the 'Beedi jalai le' song from Omkara, the other songs lack appeal.
On the whole, Atithi Tum Kab Jaoge? carries good appeal for a family audience expecting to see a clean comedy devoid of adult humour.
-Sampurn Wire