Hemas Bungalow Thief Nabbed
By SAMPURN
Thursday, March 4, 2010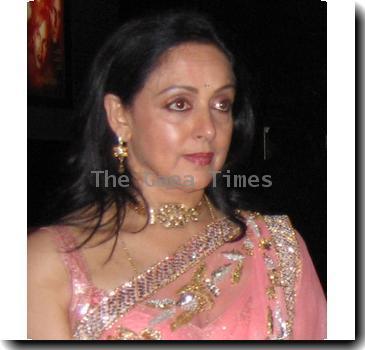 March 4, (Sampurn Wire): The high-drama that began at Hema Malini's Goregaon bungalow on Saturday night seemed to be finally ending on a positive note for the harassed actress when the kingpin behind the huge theft of approximately Rs. 80 lakhs turned out to be a member of her staff. Most of the stolen good were gold ornaments. By Tuesday morning the cops were expected retrieve the entire loot from the nabbed culprit.
However, till Wednesday morning Hema had not got back the stolen valuables.
She was pretty sure, though that the ornaments would be retrieved since the culprit had been apprehended.
Says the Dream Girl, "It's very worrisome. But we can't seem to find the staff we can trust. The security guard at our Goregaon residence was caught sleeping when the burglary happened. At the same time we've to depend on security and domestic staff. But how do we make sure they're to be trusted?"
The nightmare began when Hema landed in Mumbai on Sunday morning after a show. Says Hema, "We're right now in the middle of shifting from our Goregaon residence to our Juhu bungalow. That's how it has been for a year now. While our Juhu residence gets fully renovated we're shuttling between two homes."
On Saturday, the Goregaon residence was locked. "Esha and Ahana were in the Juhu residence. My cousin Prabha who stays in Goregaon was with me dancing on stage at Nagpur. Our show went very well. And returned happily, not knowing the shock that waited for us. The minute we landed in Mumbai on Sunday morning my cousin called to say we should immediately head from the airport to the Goregaon instead of our Juhu residence. When I reached my Goregaon residence the whole place was ransacked. Locks in the rooms and cupboards including mine had been broken."
Sounding tired but calm on Monday morning Hema said, "This is the first time in our entire life that we ladies have been so invaded by intruders. I've spent all my life in households run by women. First it was my mother and me. Then it's been me and my two daughters. …The world it out playing Holi while I've my home swamped with cops. But it's okay. The investigation has been very efficient. I'm very happy with the cops."
The question of safety for women who stay along crops up and Hema sighs, "I do miss a male presence in the house at a time like this. Looking into a police matter is not the way I want to spend my Holi."
-Subhash K Jha/ Sampurn Media