Zak Starkey, The Drummer Of "The Who" Performed In Super Bowl
By Ronee, Gaea News Network
Monday, February 8, 2010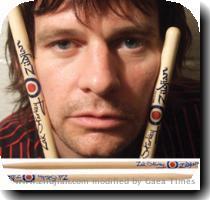 more images
more images
MIAMI, (GaeaTimes.com)- The halftime show by "The Who" in the Super Bowl XLIV was truly a treat for the viewers and the audience. As they started singing, fireworks erupted all around. The whole stadium immediately turned colorful. Zak Starkey, the son of the former "The Beatles" member Ringo Starr (Richard Starkey) along with the guitarist Pete Townshend, bassist Pino Palladino, and a second guitarist and a keyboard player accompanied Roger Daltrey as he started singing "Pinball Wizard, " from its 1969 rock opera, "Tommy." While the singer Roger Daltrey was mesmerizing the crowd with his brilliant voice, "The Who" drummer Zak Starkey with his aggressive body language was signaling the impending battle on the second half for the Super Bowl title which started right after the performance. Roger Daltrey performed 5 medleys of classics in 12 minutes.
Zak Starkey joined "The Who" in the year 1994. He is the 4th drummer of "The Who" and gave live performances with them occasionally. He was also the third drummer of English rock band "Oasis" until 2008. Zak Starkey has worked in tours with artists like Johnny Marr, Paul Weller and with bands like "The Icicle Works," "The Waterboys," "ASAP" and the "Lightning Seeds."
As a child of 8, Zak Starkey found interest in music. When he was 10, he took musical lessons from his father- "The Beatles" member Ringo Starr (Richard Starkey) and was training himself to play drums. His father had faith in his abilities, but apparently did not want his son to follow his footsteps. He wanted his son to become a lawyer or a doctor instead, but Zak Starkey could not deny his passion for music which he inherited from his father. Zak Starkey's performance as the drummer of "The Who" in the Super Bowl 2010 was amazing.