After an Alarming Accident-Prone 2009 Suniel Shetty Will Steer Clear of Action
By Subhash K Jha, SAMPURN
Wednesday, January 6, 2010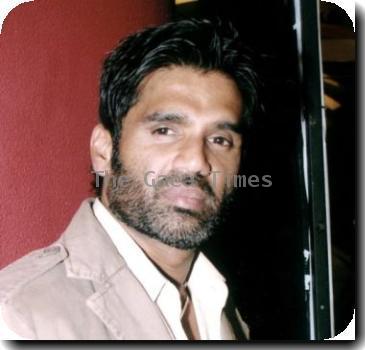 For Sunil Shetty the year 2009 began with a terrible accident that left him bed-bound for a good three months. Bizarrely the year ended with a fire accident that scorched Sunil's hand.
"It's just about healing," says Sunil, just back from a family holiday in Bali, blessedly free of accidents. Laughing uncomfortably Sunil says, "Yeah, it's been pretty bad. In-between I hurt my leg too. The chest injury kept me off-limits for a good part of 2009. I couldn't even exercise or go to the gym. But the worst discomfort was that I couldn't sleep properly because of the pain in my rib cage and now this hand injury at the end of the year. It's part and parcel of our line of work."
However Sunil's family isn't taking the string of accidents lightly. His wife, two children and his parents have now strictly forbidden him from doing anything dangerous like stunts in the water (De Dana Dan) or playing with fire (No Problem). Sunil has no choice but to put away all the muscle power at his disposal.
It's not that he would cease to stay fit. He'd just not do dangerous stunts. For all practical purposes his last action film for now is Anant Mahadevan's Red Alert-The War Within where Sunil plays a naxalite. Then onwards, it's goodbye to action for one of Bollywood's biggest action heroes who started the trend of gym-toned torsos in his debut film Balwan.
Chuckles Sunil, "Let the new younger boys have all the fun now. I've won the first award of my life for best actor at the South Asia International Film Festival for Red Alert. It's time to move into another phase."
-Sampurn Media