Padmini Kolhapure is upset that 40-plus actresses have no career in Bollywood
By SAMPURN
Wednesday, December 30, 2009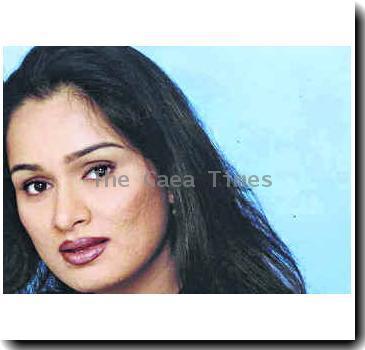 Padmini Kolhapure tells Jyothi Venkatesh on the eve of the release of her latest film 'Bolo Raam' that she keeps rediscovering herself as an actress with every new film of hers even now.
What is your role in 'Bolo Raam'?
I play the mother of the protagonist in 'Bolo Raam'. My son, played by Rishi Bhutani in the film, is afflicted by what is medically known as brief psychotic disorder. The film basically deals with how he I am murdered mysteriously leaving my son in a cage of silence. Rakesh Chaturvedi is the writer director of the film, which also has actors of the stature of Naseeruddin Shah, Om Puri etc as my co-actors.
Is your role in 'Bolo Raam' a very challenging one for you as an actress?
If it is a difficult role and you are required to play an out of the way character, you have got to work on your body language, mannerisms etc. I'd always liked to play a character which is out of the box. So far, fortunately for me, enacting such parts has come naturally and effortlessly.
Did you readily agree to play the mother of a young man in 'Bolo Raam'?
I could play the character of the mother of the leading man of 'Bolo Raam' quite easily and effortlessly because in real life I happen to be the mother of a 21 year old son Priyank and hence I could relate to the role to some extent. I would not say that it was a challenging role where I had to work on my self or on my character, though as an actor, I'd say that every role that you take on is a challenge by itself.
What makes you say yes to offers from first time directors like Rakesh Chaturvedi?
Rakesh has managed to bring his theater expertise into the film. You can never underestimate any new director. I have worked with several new directors and actors, even earlier in my career. I feel that every one should be given a chance to prove himself or herself. I have two more films lined up for release in the New Year. They are 'Mera Bachpan' and 'Daughter'. While Rajiv Arora has directed 'Mera Bachpan', 'Daughter' has been directed by Viju Mane. Both are new directors.
One does not get to see you in films these days. Why?
If you do not get to see me in many films these days, the reason is that I am not in a rush. I like to work at my own pace. Basically I am a very moody and impulsive person and hence when I feel like working, I do or else I do not.
What is your role in 'Mera Bachpan'?
In 'Mera Bachpan', Helen ji plays the role of my mother; while Mohnish Behl plays my husband .I play the mother of four young kids in the film which is a family thriller spanning three different generations. After the death of my husband, Rahul Roy comes in my life. I accepted the film because besides the fact that I could get the opportunity to work with an actress of the caliber of Helen ji, the story of the film revolves entirely around Helen ji, me and my four kids.
In what way do you think that filmmaking has changed over the years?
Today Hindi Cinema is getting much advanced technically and abounds with newer ideas. I am glad that the seniors have passed on the baton to the younger generation of actors as well as directors. People are experimenting with different subjects, characters etc, because the audiences have become intelligent and you have to cater to their requirements.
What ails Bollywood according to you?
It is still a pity that unlike Hollywood, the actresses in Bollywood who are 40 plus are not getting good roles, because star system is at its peak and people still worship stars. Star worship has always been there and will remain but at the same time, loyalties also keep on changing every week in the industry depending upon whether you are delivering a hit or a flop.
How would you evaluate your growth as an actress till date?
I am glad that I am back at work. I enjoy what I am doing because like I said, it is at my own pace. If you ask me about my growth, all that I can say is that I kept on growing as an actor with every film right from the time that I had made my debut as a child star withy Dev Saab's 'Ishq Ishq Ishq' almost 35 years ago. Even today, I keep rediscovering myself as an actor, with every film that I do now.
Do you regret that you have always been slotted as an intense actress?
I'd not hesitate to confess that it is my strength that I am known as an intense actor. At the same time I'd also admit that it is a big handicap, because I have not been able to explore other areas as an actress. At the peak of my career, I always used to be cast as the martyr when other actresses were thought of for glamorous characters. Tina Munim was the glamorous heroine in 'Souten' opposite Rajesh Khanna, whereas I was cast as the martyr. I'd love to do a comedy, not the run-of-the-mill one but intelligent one and try to make the audiences laugh.
Which are your five best films till date?
'Prem Rog', 'Ahista Ahista', 'Woh Saat Din', 'Souten' and last but not the least 'Pyar Jhukta Nahin' are my best films, as far as my performances were concerned.
-Sampurn Media