"Avatar" Movie Review
By shantanu, Gaea News Network
Friday, December 18, 2009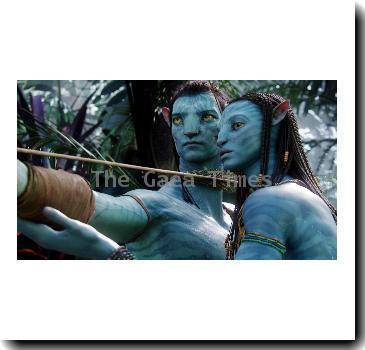 more images
San Francisco- The latest much acclaimed director James Cameron movie 'Avatar' is among the most eagerly awaited film's of the year. As the movie gears up for its worldwide release today, the anticipation surrounding the magnum opus science fiction movie is immense. 'Avatar' takes the audiences through an unbelievable cinematic experience which keeps them glued to the screens. The interesting story line culminated with mind blowing special effects turns out to be an immensely entertaining experience for all the viewers.
The backdrop of the movie 'Avatar' is based around 2154 in a planet in outer space known as Pandora with the inhabitants of Earth intending to take minerals from the planet's soil which would play a pivotal role in solving the energy crisis on Earth. The lead roles are played by much acclaimed actor like Sam Worthington, Zoe Saldana and Sigourney Weaver among others who display stunning performances which added on to the make believe world created by the director. However, what actually grabs the attention of the audiences is the amazing visual effects which keeps the viewers completely mesmerized and takes their breath away. Apart from being a visual extravaganza, the movie also narrates a touching story which ensures that the audiences experience what they have never encountered before.
Overall, 'Avatar' which is one of the most hyped movies of the year, surely manages to live up to the expectations of the audiences and is also expected to win the appreciation of the critics. So, if you find all the impressive details to good to be true, than catch the movie at your nearest theater as early as you can.