Michael Jackson wins 4, Taylor Swift also top winner at American Music Awards
By Sandy Cohen, AP
Sunday, November 22, 2009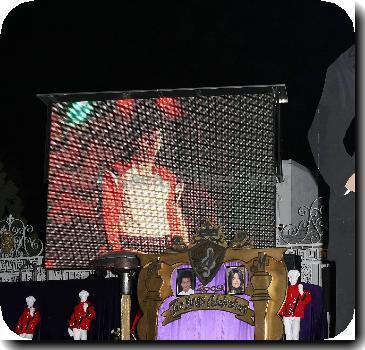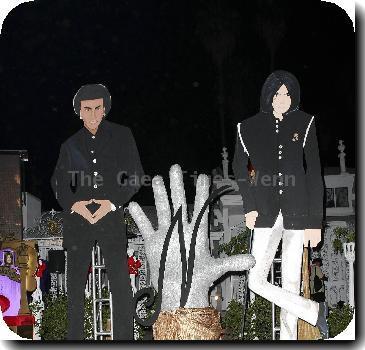 Michael Jackson wins big at American Music Awards
LOS ANGELES — Michael Jackson was honored with four American Music Awards on Sunday night, making history by collecting more AMAs during his career than any other artist and becoming the show's winningest posthumous artist.
Jackson was nominated for five awards, just one shy of nominee leader Taylor Swift. He was named favorite male artist in the pop/rock and soul/R&B categories. His 2003 greatest-hits album, "Number Ones," also won favorite album in both categories.
The only other award he was vying for was the evening's finaly trophy, entertainer of the year, along with Lady Gaga, the Kings of Leon and Eminem and Swift (She was named favorite female pop/rock artist and her album, "Fearless," won best country album).
Jermaine Jackson, wearing a glittery white glove in tribute to Michael, accepted two of his brother's awards, thanking "Allah for blessing my entire family" and naming each of his brothers and sisters.
He said Michael's message is more important than any award.
"The message that Michael had will live on forever," he said. "He saw good in everyone and he wanted everyone to do good. He always started with love."
Jackson's victories were among the highlights of the evening, which also featured a jaw-dropping performance from Lady Gaga and a special award for Whitney Houston.
Lady Gaga, wearing a Vulcan-inspired headdress and vest filled with lights, performed songs from her new album, "The Fame Monster," due in stores next week. She used her microphone to break into a glass case, where a grand piano sat waiting. It caught fire when she sat down to play.
The American Music Awards honor the year's top-selling artists in eight popular genres. But even more than awards, the AMAs are about performances, and they came back to back to back Sunday.
The Black Eyed Peas, voted favorite pop/rock band, energized the crowd when they performed two of the year's most popular hits: "I Got A Feeling" and "Boom Boom Pow."
Dancers wearing outfits made from stereo speakers shared the stage with Fergie, Taboo, apl.de.ap and will.i.am, who wore a pompadour wig. The high-energy medley melted into a Nirvana sample at the end, with will.i.am rocking on guitar.
Rihanna returned to the AMA stage Sunday, sporting blonde hair, a skintight white peek-a-boo bodysuit and a tattoo down the front of her neck that read "Rated R," the name of her new album, out next week.
Janet Jackson opened the show with a medley of some of the biggest hits from her long career — all tracks that appear on her new greatest-hits collection, also called "Number Ones."
Alicia Keys and Jay-Z dueted on their ode to New York City. Shakira was flanked by a dozen dancers in tiny black bodysuits as she sang her new single. Kelly Clarkson performed a stripped down version of her hit "Already Gone," backed by a string quartet.
Jennifer Lopez added a boxing motif to her dance-filled performance, but she slipped during a tricky move and landed on her bottom.
Green Day lead singer Billie Joe Armstrong said the show left him star-struck.
"When you see all the talent that's in the room" like Jay-Z and Lady Gaga, he said backstage, "it's like holy moly, these are huge people."
On the Net:
www.ama.abc.com
Filed under:
Art and Culture
,
Performing Arts
Tags:
Alicia keys
,
Amas
,
Award Shows
,
Celebrity
,
Country Music
,
Dance
,
Eminem
,
Fergie
,
Green Day
,
Kelly Clarkson
,
lady gaga
,
Los Angeles
,
Michael Jackson
,
Music
,
Music Awards
,
Rock Music
,
Whitney Houston