Stars from Toss and Daddy Cool prance on 10 Ka Dum
By SAMPURN
Wednesday, September 2, 2009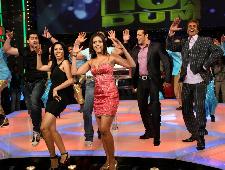 Imagine having 6 popular celebrities on one stage with Salman Khan! It has to be a riot and that's what happened when the cast of Toss and Daddy Cool came as celebrity guests on 10 Ka Dum this week. If it seem like an overcrowded party, then there was that much more fun and laughter too!
With a male dominated guest list Suneil Shetty, Aftab Shivdasani, Javed Jaffri, Ashmit Patel, the girls- Aarti Chhabria and Sophie Choudhary were in the minority. Boys will be boys and when they get together with Salman Khan the conversation is bound to get naughty.
Toilet jokes and the likes underlined the episode with the guys having all the fun. While the girls sat and watched from the sidelines. But Salman was not going to leave the girls out in the cold, so he joined them in the singing and dancing and the fun didn't end there. He made sure that Suneil demonstrated his dancing skills or the lack of it– solo.
Aarti Chhabria announced that she had a confession to make on national television– something she had not told anyone– that she had a crush on Salman Khan from her childhood! Flattered as he was by the confession Salman quipped that he would have been happier had she told him in private so that the world did not have to know that he has been around for so long.
"But anyway I am getting used to people saying this to me wherever I go, most of them are saying they were my fans from the time they were age four!"
-Sampurn Media