Controversial film Black Widow finally gets Censor Board clearance
By SAMPURN
Friday, August 14, 2009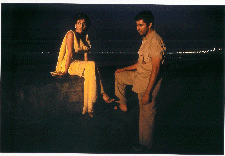 Finally, director Dinkar Rao's film is up for release after a long struggle with the Censor Board. The film 'Black Widow – The land bleeds' set against the backdrop of communal riots in India completed its shooting way back in 2005 but was banned as senior police officers objected to its release fearing it would create a law and order problem. Rao, however, approached the Appellate Tribunal. "The Appellate Tribunal passed the film but with almost 25-50 percent cuts in the riot scenes and the rape sequences. There were 10 audio cuts. This was one of the most frustrating periods," recounts the director.
'Black Widow' is a one night story of a Muslim woman called Zoya, played by Ratna Malay, and her interaction with others including a right wing leader. The film depicts that Zoya, scarred by false court testimony, interrogations at the hands of the police, rape and murder of her husband, could very well be a future fidayeen.
Though the film was highly appreciated at its special screening at the Cinecitta Studious where the audiences felt that the subject has been treated in a balanced way unlike the overdramatic approach of most Indian filmmakers, it has met with equal resistance from right wing Hindus and certain Muslim groups besides, of course, the Censor Board.
"We have faced problems from right wing Hindus (because a character in the film looks like Raj Thackeray) as well as fanatical Muslims whenever we have had any screenings. But what happens to Zoya is happening to many women all over the world. It could be Mumbai, Gujarat, Iraq, Kashmir, Afghanistan or anywhere in the world," defends Dinkar.
'Black Widow' is Dinkar's debut film as a director but he is not a novice as far as films go. Apart from making documentaries like 'Handcuffed to History', 'Chained to the Future' and 'Dancing Daughters', Dinkar has also acted in an internationally acclaimed film called 'Sanyogita' in the lead role along with Divya Dutta.
There have been instances earlier too when films on sensitive subjects like Anurag Kashyap's 'Black Friday' based on the 1993 Bombay bombings or Rahul Dholakia's 'Parzania' on Gujarat riots met with stiff resistance. But when they finally released, they received worldwide éclat. Let's hope 'Black Widow' turns out to be as lucky.
-Sampurn Media