The 'Flintstones' Characters Turn 50
By Tias, Gaea News Network
Friday, October 1, 2010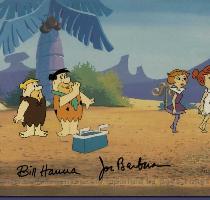 more images
LOS ANGELES (GaeaTimes.com)- On September 30, the Flintstones fans all over the world celebrated the golden anniversary of their favorite Modern Stone Age family. The day is special as the cartoon was first aired in 1960 on the same date. The original series went on for just 6 years but the show has had an immense impact on popular culture ever since. It was the 'Simpsons' that finally broke the record of the 'Flintstones' in 1997s as the longest running animated series. Joining in the celebrations this year was the world's favorite search engine, Google. The Google homepage had been transformed into a scene from the animated series with the main characters in it.
One of the doodlers behind the Google homepage design for the day, congratulated the cartoon on its 50th anniversary. The blogger also thanked the 'Flintstones' for inspiring several generations and encouraging them to think out of the box by looking back into the past now and then. He also said that 'Bedrock' was the modern city of the past and he wanted to live in it. Though he could not live in 'Bedrock' in reality, he paid his tribute to the 'Flintstones' characters in the form of the Google doodle.
The characters of Fred and Wilma 'Flintstones' were based on the lead characters of the series 'Honeymooners'. The series was ground breaking in a number of ways as cartoons in those times lasted only a few minuted and it was the first one to have a complete half hour dedicated to it. One of the major reasons for the shows success is that it appealed to the adults and children alike.